Katonah-Lewisboro school district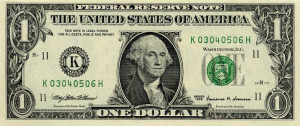 What can you buy with a $1 bill? Well, a random act of kindness for starters. How about many random acts of kindness?
One hundred students at John Jay Middle School in the Katonah-Lewisboro school district in Cross River, New York were asked to spend one dollar on something good for someone else. The assignment was given one week after the tragic shooting at Sandy Hook Elementary School. Teachers Laura Atwell, Gail Bergman, Amy Baisley, Nick Stathis and Jim Egeler gave the kids 26 days for the project (representing the number of students and teachers killed).
"We were all stunned after Newtown," Atwell told Lisa Buchman of the Bedford-Katona Patch. "It might seem to seventh graders that there isn't a lot they can do after a situation like that, so we wanted to empower them to do something good."
The teachers donated $20 of their own money so each student would receive one dollar to spend on someone else.
The results?
Many of the students increased their funds by soliciting matching donations through social networks.
Mills Reed purchased three copies of the book The Three Questions by John Muth, and donated one copy each in memory of Anne Marie Murphy, a Katonah native and teacher who died at Sandy Hook. Reed arranged for the books to go to the Mount Kisco Library, Katonah Village Library and Somers Public Library—where Murphy was born, raised and buried.
Ryan Kingston of Cross River used social media to raise matching $1 contributions for the Leukemia & Lymphoma Society in memory of his best friend whom he lost to the disease a few years ago.
Caleigh Boyer-Holt of Katonah also grew her dollar which she and six other students used to buy supplies to hold a bake sale in Katonah. They raised $200 and donated it to the Leukemia & Lymphoma Society.
Here are some other examples, as relayed by Atwell to the Bedford-Katona Patch:
Three students (independent of each other) used the dollar to buy stamps, and wrote and mailed letters to their elected officials asking for sensible laws around guns.
One student obtained matching funds and pre-paid for 26 coffees at Noka Joe's, leaving 26 slips of paper at the counter to be handed to each customer, explaining their coffee was pre-paid in honor of the lives lost at Newtown.
One student traveling in Belize gave her dollar to a girl of apparent little means there.
Many students did extra chores at home, earning extra money to donate to local nonprofts such as the Outreach ALS Foundation.
"One dollar was the seed for these kids to spread kindess," Atwell said. "This may turn into a team tradition."