Keith Maginn

I just recently learned about one of Cincinnati's hidden treasures…a very talented writer who brings others strength by sharing openly, vividly and passionately his own journey through deeply rooted personal challenges and experiences.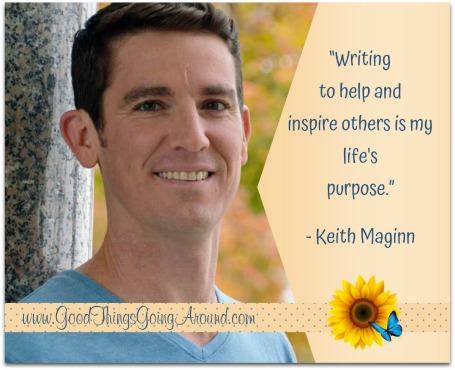 Keith Maginn was born and raised here. He moved to Knoxville, Tennessee just after college to work for AmeriCorps (a service organization like the Peace Corps, but within the United States) and for Knoxville Habitat for Humanity, but has since returned home and currently works for Kenton County Public Library in the Local History and Genealogy department.
It was in December 2010, when he released Turning This Thing Around, a self-help memoir of overcoming personal struggles. Then, in January 2013, he self-published Goodwill Tour: Paying It Forward, detailing a 3,000-mile philanthropic pay-it-forward road trip through the southeastern United States. His most recent book, (Extra)Ordinary: Inspirational Stories of Everyday People, was just release in August, 2016 by KiCam Projects and tells seven inspirational stories of people he knows personally. (All three books are available in paperback and e-book on Amazon.com or at keithmaginn.com.)
"I feel writing to help and inspire others is my life's purpose," he told me.
Please read the rest of Keith's story below:
I have been writing most of my life, as far back as I can remember. But it was never focused writing, just here and there. However, about seven years ago I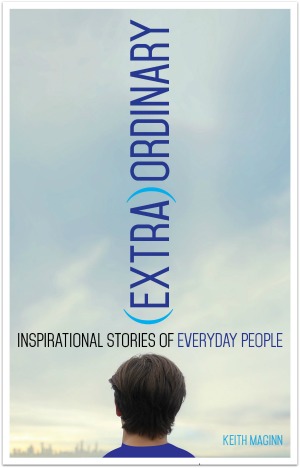 found myself sitting outside of a psych ward in Atlanta, Georgia. My then-fiancée was struggling terribly with bipolar depression. I had done everything I could, but was powerless to help her. I was also fighting my own battle with chronic pain, depression and anxiety. I had no idea what I could do to turn things around. No matter how hard I fought, how much I prayed, things seemed to get worse and worse.
I soon found myself slipping into a deep depression, though I remained outwardly happy. Few of my family, friends or co-workers had any idea how desperate my predicament had become. My then-fiancée was adamant that no one know what she was going through, but I knew I couldn't keep everything bottled up inside. I was perilously close to a complete nervous breakdown. Not wanting to betray her trust and talk to anyone, I started writing. It was my therapy, the only way to get some of the anger, sadness and confusion out of me. The story seemed to write itself. I realized that others might benefit from what I was writing. I felt people could relate to at least some of what I went through: heartbreak, depression, chronic pain, frustration…
When I started writing what eventually became Turning This Thing Around, I had no plans of ever publishing it. I wrote for myself, for my own sanity. But what started as a very personal diary evolved into something that I wanted to share with others. If I could overcome what I had, then others could, too. I decided to take a chance and self-published my writing as a "self-help memoir" (changing her name to protect her privacy).
I had no idea how people would react to my book. Would they think I was feeling sorry for myself and looking for pity? I had my doubts, but I am very glad I decided to go ahead with the project. The response was wonderful. I have gotten many replies from people that relate and then share their own stories with me. I am happy that people can learn from what I went through and that we can connect on a deeper level. I now know that people are often going through more than they show, making empathy, kindness and understanding all the more important.
(Extra)Ordinary: Inspirational Stories of Everyday People
After writing my first two books, which were about my life and experiences, I started thinking about all of the people that I know that have amazing stories. These individuals had overcome major obstacles, but they aren't celebrities, so no one really knew what they had been through, how they had endured in tough circumstances. I wanted to tell their stories and to point out that everyone goes through hardship; these people rose above their challenges and can serve as inspiration to others.
When I was writing my book about inspirational people I know, one theme that appeared several times was the depth of a mother's love. I guess this was something I took for granted in the past, but seeing so many emotional, awe-inspiring examples in black-and-white really opened up my eyes. I learned that there is nothing like the power of the love mothers have for their children.
I recently signed with KiCam Projects to write the second volume of (Extra)Ordinary. My fourth book is scheduled for release in fall of 2017.