Kelly and Andrew Briesacher
(special thanks to Tanya Bricking Leach from Cincinnati Children's Hospital Medical Center for sharing this.)
Molly and Zoey Briesacher were to be the first grandchildren on both sides of the family.
The doctor labeled them right there on the ultrasound pictures: "The first grandbaby," she wrote on one picture. "The second grandbaby," she wrote on another.
That was the way Kelly and Andrew Briesacher told their parents they were expecting. It brought everyone a lot of joy. But there were worries, as well.
"We were told that having identical twins comes with a set of risks," Kelly said, "including something called twin-to-twin transfusion syndrome." The rare condition can happen when identical twins share a placenta and one gets more blood and nutrients than the other. The doctor said she would keep a close watch as the pregnancy progressed.
By week 19, an ultrasound showed that one twin measured much smaller than the other. And neither the ultrasound technicians nor the doctors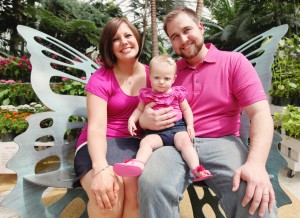 could find the smaller twin's bladder.
The family's doctors in St. Louis referred them to the Fetal Care Center of Cincinnati. The Briesachers threw their clothes in a suitcase and took off for the scariest trip of their lives.
They arrived in Cincinnati for a whirlwind of tests and meetings with doctors and social workers on the Fetal Care team.  Sadly, one twin, Molly, was already showing evidence of brain injury from the disease. Her heart was already slowing because of the small fraction she had of the shared placenta.
But there was a chance of saving Zoey, the other twin, if surgeons acted quickly. That is no doubt the most difficult decision any parent would ever have to make. Hope, excitement, sadness and anger overcame them as they prepared. And when it was over, only one twin would survive.
A nurse suggested a visit to Cincinnati's Krohn Conservatory and when they walked into the butterfly exhibit, Kelly felt a strong connect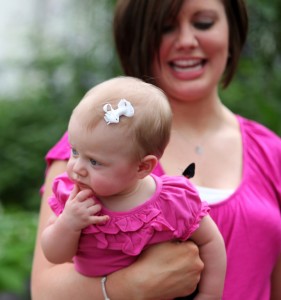 ion with the daughter they lost. "I thought, 'Every time I see a butterfly from here on out, I'm going to think of my precious baby Molly."
Zoey Elizabeth Briesacher was born on Aug. 30, 2011, weighing in at 3 pounds, 10 ounces. Her parents credit doctors at Cincinnati Children's Hospital Medical Center for saving her life. At 1 year old, she is reaching every milestone. When the time comes, Kelly will tell Zoey the story of her sister — and the butterflies.