The news was the talk of Cincinnati. Heck, it was the talk of baseball fans throughout the country. Last week, our Cincinnati Reds announced Bryan Price as their new manager.
It is a role with huge expectations. After all, his predecessor led the Reds to three 90-win seasons and three playoff appearances in the last four years, their best stretch of success since  Sparky Anderson managed the Big Red Machine in the 1970s. But Cincinnati got knocked out in the first round of the postseason each time according to ESPN.
Although he is considered one of the best pitching coaches in baseball, Price has never managed at any level…at least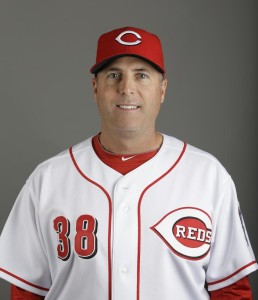 formally.
Here is where this news caught my attention. And particular, one article in our Cincinnati Enquirer written by C. Trent Rosencrans.
Rosencrans points out that, although Price may not have on his resume a MLB management title, he has in every sense of the word been managing others with great thoughtful leadership skills.
Rosencrans shared this story of how Price's words encouraged a former manager with whom he worked to quit focusing on a past mistake by giving the manager the perspective he needed to shift his focus from dwelling on his past weakness to moving forward and toward new opportunities.
"I remember one time on the bench, I sent someone with a 3-2 count, and I was debating whether to do it or not and it was a strike-'em-out, throw-'em-out, and two innings later, I'm still kind of beating myself up for it," recalls Bob Melvin, who had Price as his pitching coach in both Seattle and Arizona. "He looked at me, he said, 'You know, you'd probably be better served to let that one go because it was a couple of innings ago and there's not much you can do about it right now.'
"And he's absolutely right, he handled it the right way, he got me past something that I should've gotten past earlier, and he did it in a diplomatic way that wasn't cantankerous."
Absolutely, in the business world that ability to inspire your team members to want to do more, achieve more, be more is all of the makings of an effective leader. Price had this to say when asked about his skillset…
"I think always as the pitching coach, you're always the most ready guy on the bench to understand when a pitcher is tired and when a guy needs to come out of a game and who matches up best, who needs a confidence boost to come into a game in a certain game or certain situations," Price told Rosencrans. "Those are all things you do as a coach, as a manager it's just larger. It's a larger scale.
The fact that Price comes from a pitching background doesn't bother Reds outfielder Jay Bruce.
"I believe that different people respond to different ways of coaching and teaching and I believe he has the personality where he notices that and he does whatever's necessary to get through to that person," Bruce said. "I believe managing in baseball goes back to managing personalities. Everyone up here can play, they're here for a reason. The better you manage personalities and you understand how to get the most out of that person, the more successful that person's going to be."
Here in lies the bigger lesson for all of us – in our workplaces and in our communities. How often is it that those in charge of recruiting base decisions upon people's titles?  As leaders, how much time do people take to really get to know the strengths of those on their team to bring those qualities to the forefront?  How often is it that, instead of looking at past experience, we look to find a person's potential and we seek ways to bring that out?
And from Price, we learn to let mistakes of our past not dictate our actions in the present and future, and we learn that to get the best from those we manage, it is best to manage from the standpoint of setting our team members up for success.
Everyone has their own unique gifts and perspectives. When we don't take the time or interest to learn about those gifts, then we all miss out. This week, my challenge to you is to look to find those strengths in those around you. And celebrate them.