LensCrafters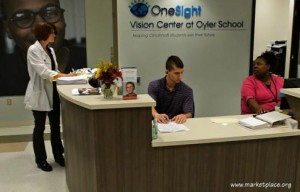 Have you heard about the new OneSight Vision Clinic at Cincinnati Public School's Oyler School? The Cincinnati Eye Institute Foundation is a founding partner and OneSight is funded by the company that owns LensCrafters and Pearl Vision and Sunglass Hut.
Families of kids who attend Oyler don't have a lot of money. Marilyn Crumpton with the Cincinnati Health Foundation told www.marketplace.org 's Amy Scott even parents with Medicaid can't always get their kids to the eye doctor.
"Sometimes it's a choice between going to the grocery or taking that bus trip," she says. "Poverty interferes with children getting health care," Crumpton said.
Oyler is a CPS Community Learning Center, a neighborhood hub in Cincinnati's Lower Price Hill that leverages public and private partnerships to offer dental, medical and vision care plus tutoring, quality after-school programming and more to remove barriers in the way of student success.
They say that it takes a village to raise a child. Thanks to so many who have come together with one common goal – to help young people achieve.