Linda Clement-Holms
You may have heard about Diana Nyad, who, at 64, became the first person to swim from Cuba to Florida WITHOUT a shark cage. Many people in Greater Cincinnati got to meet and listen to Diana thanks to the YWCA of Greater Cincinnati. Linda Clement-Holmes, senior vice president, Global Business Services at P&G, was among them.  Below are some of Linda's thoughts after the opportunity. Thank you to her for sharing them!
"About 6 months ago, I had the privilege and honor of spending a little bit of time with Diana Nyad when she was in Cincinnati speaking at the YWCA Career Women of Achievement Luncheon. Diana Nyad is the first person (at age 64) to have EVER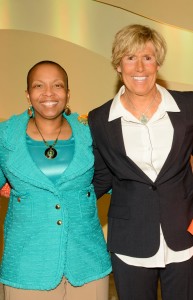 made the swim from Cuba to Florida without the use of a shark cage. She completed that historic swim in about 53 hours. In addition to monumental feats like the Cuba to Florida swim, she is also an inspirational speaker. One of the things she talks about is doing your absolute best and knowing that no matter the outcome, you know that you could not have done one [millimeter] more (she usually holds up her thumb and index finger to demonstrate the extreme minuteness of doing [millimeter] more).
How many of us can look back at our day and say, "Today, in all that I did, I did the ABSOLUTE BEST JOB I COULD HAVE DONE, AND NOT ONE MILLIMETER LESS"? I would say not many of us. I know I can't. And there are many reasons for this as well as the fact that we all have good days and bad days. But on average, how many times can you say that?
Try it. Tonight, before you close your eyes and go to sleep, ask yourself,  "Did I do my absolute best job possible on EVERYTHING I did today?" It could be work-related or family-related, it does not matter. The question still applies.
Try it. In particular, if there is someone who says they give their ABSOLUTE BEST EVERY SINGLE Day on EVERY SINGLE THING THEY DID, I would love to hear how you are doing that, and what tips you have for the rest of us."
Linda was a co-chair for the event, is a former YWCA Career Woman of Achievement Award recipient and YWCA Board member.
Do you give your best every day? I invite you to post a comment with what you are doing.