Loveland Elementary School
My intern, Andrea Francisco, brought to my attention a campaign in Loveland City Schools that is all about recognizing students who speak out and stand up for others.
The My Voice, My Choice Upstander campaign is a district initiative that was described in a video by Loveland Superintendent Chad Hilliker. "It's a program that talks about how students have a voice when it comes to if there is a problem," he said. "We recognize students who have made a difference in their buildings and recognize the wonderful things they do. Maybe they see a friend who needs help or someone being picked on."
Teachers from each building nominated students who embody the principles of My Voice, My Choice. Each student selected received a certificate and t-shirt as part of the recognition ceremony. They are:
Loveland Early Childhood Center: Ryan Faessler, Ella McCormick and Elijah Rand.
Loveland Primary School: Alex Abrinica, Dani Hildebrand, Tori Johnson and Claire Neiger.
Loveland Elementary School: Ellie Boni, Allie Despotakis, Mary Haberer and Cameron Petrella.
Loveland Intermediate School: Sam Greenberg and Lesley Webster.
Loveland Middle School: Jack Aiken, Miya Shultz, Connor Wasmund and Jacob Eicher.
Loveland High School: Logan Amon, Rachel Jones, Stephanie Simon and Clayton Walker.
"Kindness can be contagious when you have students who are not afraid to do what is right, and we strive to create this culture in our classrooms, our buildings and across our district," Hilliker said.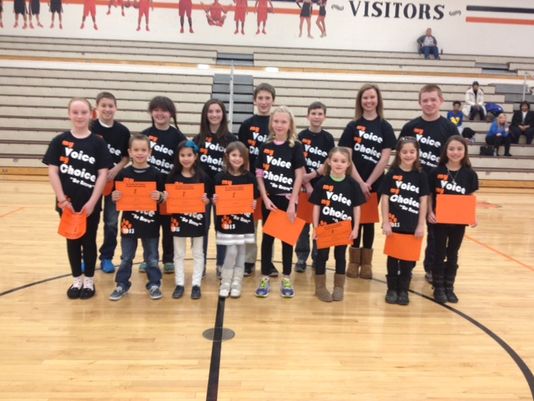 Honorees are – left: front, Mary Haberer, Elijah Rand, Alex Abrinica, Dani Hildebrand, Tori Johnson, Claire Neiger, Ellie Boni and Allie Despotakis; back, Sam Greenberg, Lesley Webster, Miya Shultz, Connor Wasmund, Jacob Eicher, Rachel Jones, and Clayton Walker. Not pictured,Ryan Faessler, Ella McCormick, Cameron Petrella, Jack Aiken, Logan Amon and Stephanie Simon.
It's no wonder Loveland Elementary School 3rd graders Alex and Hannah Laman love to read…and want others to experience that same joy. Brent and Angela Laman have always read to their children, in fact, ever since Alex and Hannah were babies.
So, when news came out that a lack of funding was going to cause some local school kids to not have access to books, the twins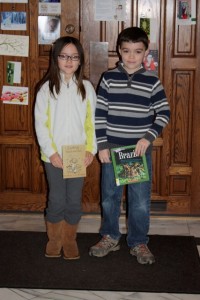 wanted to do something. With support from their parents, they had a nonprofit called 'Adopt a Book' up and running in no time.
What a great way to instill a love for giving…by encouraging children to find a way of passing along to others something that gives them so much joy.
Alex and Hannah (and Brent and Angela) have been busy reaching out to their classmates and other community groups. Their house has become a warehouse of sorts with stacks of stories – from Harry Potter to Dr. Seuss. Over 2,800 books have been donated to Adopt a Book so far; and Adopt a Book has in turn distributed 1,300 books to children through area organizations.
If you have children's books that you would like to donate, please contact them at: adoptabook@fuse.net. You can also drop books off at Beech Acres Parenting Center in Anderson (where Brent facilitates some groups) – 6881 Beechmont Ave; 45230.