Mayerson High School Service Learning Program
"What I learned about myself this week was that I love people and care about people. It's a great feeling from helping people and that I'm not too small of a person to make a big difference."

"What I learned about myself this week was to not judge others and to look deeper than what is on the surface. Everyone has their own stories and is going through various things, so even things like smiling can change someone's day."

"What I learned about myself this week was that conversations can serve a larger purpose in breaking down cultural barriers. I can be someone who initiates that conversation in the future."

 
These are just some of the many reflections Cincinnati area students have expressed after a week this summer immersed in helping others through the Mayerson High School Service Learning Program. Seventy teens from Mt. Dotre Dame, Moeller, Aiken, Withrow, Reading, Dater and Finneytown High Schools, as well as Starfire University participated.
Through my work with area nonprofits I get to see so many generous acts of young people, and so many incredible programs aimed at instilling in them these powerful character values. I don't remember having those opportunities when I was a teen and I think it is a beautiful gift. The lessons these students are learning will impact the rest of their lives, and will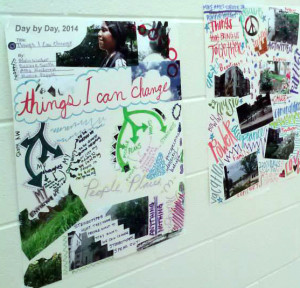 no doubt lead them on a path of lifelong philanthropy.
The Mayerson Foundation's program is year round and includes high schools from throughout Northern Kentucky and Greater Cincinnati. In the summer urban immersion learning week, students volunteered at 30 area nonprofits and invested $1000 in one of those organizations each week through a grant review process.
 Clare Blankemeyer, coordinator for the program, told me there was a strong emphasis on story telling because 'stories make us human.'  One group interviewed students at the Drop Inn Center. "What the students learned is that many  people experiencing homelessness have jobs, are hard working and came upon difficult times," she said.
Mayerson particpants painted a symbol representing the life and stories of each guest. Those symbols were shared with the Drop Inn guests, and will be incorporated into a greeting card collage that will be sold to offset costs of the Center's meal program.
Other participants worked alongside Homeless Coalition Streetvibes Distributors and City Gospel Mission's Exodus Program members to explore their community through photography in the New Voices Program. Some of those pictures will be chosen for a calendar benefitting the Greater Cincinnati Coalition for the Homeless.
Great work by great people making a great impact. That's what I call a Good Thing!