Mercy Neighborhood Ministries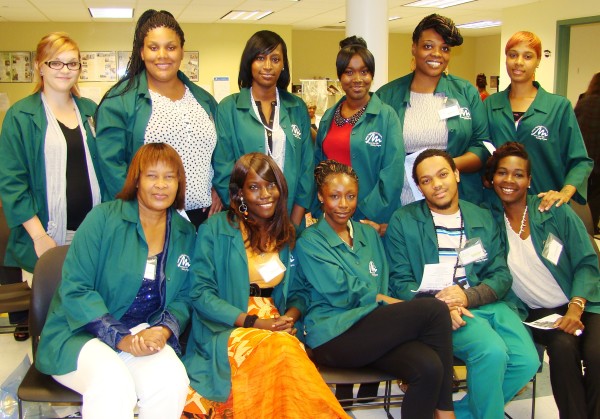 Congratulations to these determined, hard working students! After an intensive, three-week program, they are recent graduates of the Mercy Neighborhood Ministries (MNM) Home Care Aide Training Class.
Many of the participants join the class having experience in taking care of a loved one. Others may be transitioning from being unemployed or underemployed to starting a viable new career.
How empowering it is for them to learn new skills in a positive environment and gain renewed confidence. After graduation MNM has seen a high success rate of helping them find full or part time jobs in neighborhoods where they live.
Home Care Aide Training is just one of many programs and services of Cincinnati nonprofit Mercy Neighborhood Ministries. Its website says it promotes the empowerment of individuals and families through programs that address their immediate needs, foster self-reliance, promote holistic health, and advocate for social justice.  Other services include a monthly food pantry, crisis assistance, a grandparent's support group, senior services, ABLE/GED classes and more.
 Taste of the Neighborhood
On October 27, MNM will hold ist annual Taste of the Neighborhood from Noon until 3 pm at Purcell Marian High School (2935 Hackberry St  Cincinnati, OH 45206). The event is free and open to the public.
This year's participating restaurants include Eli's BBQ, Kitchen 452, Eat Well Café and Take Away, Skyline Chili, Giminetti Baking Company, The Brew House, Café deSales, and Parkside Café with caramel apple cake from Bon Bonerie and Frisch's pumpkin pie.
Children can enjoy strolling performances by Circus Mojo and take part in a scavenger hunt, costume parade, making balloon animals, and face painting while adults enjoy music by bluegrass band, Northbound Motion, and bid on gift baskets  stuffed with great goodies and gift certificates to area restaurants, museums, performances, and sporting events.
If you can't attend the Taste of the Neighborhood, you can buy a gift basket or certificate online now! Just visit www.mercyneighborhoodministries.org and click on the "Buy an Auction Item Now" link on the home page.