Miami Valley Christian Academy
I have so enjoyed working with the committee of the Greater Cincinnati Planned Giving Council for more than five years in sharing the news of their Voices of Giving Awards. It is a wonderful effort to say thanks to those who have made lasting contributions to causes close to their hearts.
In this year's 16th annual Voices of Giving Awards presented by PNC Bank, 26 Greater Cincinnati philanthropists were recognized for their selfless generosity and foresight in contributing a bequest or planned gift to their favorite charitable organization. Also honored were two advisors whose pivotal role in cultivating those gifts is helping sustain valuable causes.
"It is our great honor to celebrate so many truly inspirational individuals in our community. Our Voices of Giving Awards honorees have such diverse passions; however, what they have in common is their selfless generosity and foresight. Their bequests and planned gifts are ensuring the sustainability of many very important causes in our community," said Michelle Mancini, co-chair for the event.
Philanthropist honorees included: Terry Bruck on behalf of the Cancer Support Community Greater Cincinnati – Northern Kentucky; William and Susan Friedlander on behalf of the Cincinnati Ballet; Rosemary and Frank Bloom on behalf of the Cincinnati Museum Center; Marvin Kolodzik on behalf of the Cincinnati Symphony and Pops Orchestra & the University of Cincinnati Foundation; T. Brian Brockhoff on behalf of the Catholic Inner-City Schools Education Foundation; Dan Meyer on behalf of Episcopal Retirement Homes: Susan Mustian on behalf of the Juvenile Diabetes Research Foundation; Robert Brant on behalf of the Jewish Federation of Cincinnati; Herb Reller and Bessie Wessel (both honored posthumously) on behalf of Life Enriching Communities – Twin Towers; Jack Wild on behalf of Life Enriching Communities – Twin Lakes; Roger Grein on behalf of Magnified Giving; Gary and Joyce Sallquist on behalf of Miami Valley Christian Academy; Dr. James M. Garvey, Jr. on behalf of People Working Cooperatively; Gary and Joan Thompson (Joan was honored posthumously) on behalf of Ronald McDonald House Charities of Greater Cincinnati; Robert and Rhea Glassmeyer (honored posthumously) on behalf of the Sisters of Notre Dame de Namur; James J. and Anne McGraw, Jr. on behalf of The Athenaeum of Ohio; Dorothy Meader Martin Kersten (honored posthumously) on behalf of The Greater Cincinnati Television Educational Foundation (CET); and Fred Grove and Nancy Neff on behalf of Xavier University.
Advisors who were honored were Scott Boster on behalf of the American Cancer Society; and Jan Frankel on behalf of the Jewish Federation of Cincinnati.
To read short backgrounds on each of the honorees,
please click the link below:
2014 Voices of Giving Honorees
To see the entire photo album from the event,
please click here.
The 2014 event was co-chaired by Lori Asmus and Michelle Mancini. Committee members included Sally Alspaugh, Diana Collins, Carol Derkson, Bruce Favret, Jim Friedman, Misty Griesinger, Bill Hitch, Mary Alice Koch, Telly McGaha, Tracy Monroe, Carol Stevie, Sue Ellen Stuebing, Dan Virzi, and Molly Talbot.
The Greater Cincinnati Planned Giving Council is a professional association for people whose work includes developing, marketing, and administering charitable planned giftsfor non-profit institutions and a variety of other legal and financial settings.
Last fall it was so wonderful to have been given the opportunity to learn about one of our region's truly great philanthropists – Roger Grein when I helped raise awareness of his contributions. Roger has given to local nonprofits with his resources and his heart. However, his greatest legacy is in the hearts of thousands of young people in whom he and his Magnified Giving team of staff and volunteers have instilled long lasting generosity.
Magnified Giving is a nonprofit organization whose mission it is to educate, inspire, and engage students in philanthropy. Its vision of Magnified Giving is for every high school student in America, starting with the Greater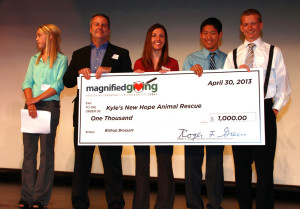 Cincinnati and Northern Kentucky area, to someday have the opportunity to learn first-hand how to be generous and wise philanthropists.
Each year, participating school groups are challenged to determine how they want to invest up to $2000 in a nonprofit. They research, evaluate nonprofit grant applications, fundraise to earn matching dollars – gaining leadership, communication, and teamwork skills as part of the process. This spring in a packed auditorium of over 600 students, teachers, nonprofits, donors, parents, and community leaders, nearly $50,000 was presented to causes doing great work.
"The most rewarding aspect of Magnified Giving is when what we do in the classroom reaches beyond the walls of the school in a tangible way. I see students 'get it' when they come back from a site visit," said Julie Vehorn, director of curriculum and instruction at Roger Bacon High School overseeing her school's Magnified Giving program.
Participating Schools
Aiken College & Career
Arlington Heights
Bethel-Tate
Bishop Brossart
Chaminade Julienne
Cincinnati Country Day
Cincinnati Hills Christian Academy
Covington Catholic
Dater
Elder
Holmes
Indian Hill
Kings
Loveland
McAuley
McNicholas
Miami Valley Christian Academy
Mother of Mercy
Mt. Notre Dame
Notre Dame Academy
Perry High School
Reading
Roger Bacon
St. Henry
St. Xavier
School for the Creative and Performing Arts
Seton
Shroder
Starfire University
Summit Country Day
Taylor
Ursuline Academy
Wyoming
Pilot Programs
Madeira Middle School
Northern KY Youth Advisory Board