Michael Connelly
Yesterday hundreds of executives, employees, organizers, fundraisers and volunteers all gathered on our downtown Foutain Square. This time last year I was among them. They are the voice of the United Way of Greater Cincinnati and together, over the next couple of months, they will all be working toward a common goal – raising $62,850,000 for our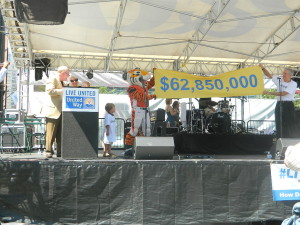 region's future.
Talk about a lofty goal!
"Centering our lives on making a difference for others by creating healthy communities to live, work and raise families is a noble calling for all of us. In Greater Cincinnati, United Way is the catalyst that helped spark strategic thinking about how we develop and sustain our region as a healthy place for everyone to live and work," said Campaign Co-Chair Michael Connelly, president and CEO, Catholic Health Partners, who is co-chairing the 2013 United Way of Greater Cincinnati annual fundraising campaign with his wife, Sally, a community volunteer leader.
"If the goal is reached, it will be the highest amount this United Way has ever raised," says Michael Connelly. Last year the total was $61,050,000 – $50,000 over goal.
"This year's goal strongly reinforces our message that Bold Goals need Bold Resources," says Sally Connelly.  "We need to raise as much as we can to achieve the Bold Goals and help children, individuals and families throughout the region."
I know firsthand of this need for success. For twenty plus years I have worked in our regions, helping nonprofits doing very important work to tell their story, to forge relationships. I have seen the faces on parents who received financial and mental support to improve the lives of their families. I have seen people overcome obstacles they never thought they were capable of doing. I have seen the impact of a caring hand. On any given day, tens of thousands of lives are touched by work of a United Way funded agency or program.
This is a campaign that is about all of us. Beyond fundraising, United Way is asking the community to become advocates for change. People can join United Way of Greater Cincinnati's advocacy network through its website. Community members can also find more volunteer opportunities through the United Way Volunteer Connection.
It all ends October 30, 2013. To learn more, please visit www.uwgc.org.