Mike Boehmer

If you follow my blog, you may recall a few posts written by Tami Boehmer, known to many as a brave and inspirational cancer warrior who took on the disease not only through her own fight but the fight of so many others. She was an author (of two books about cancer survivors), a blog writer (of Miracle Survivors), a mother, a sibling and daughter, and a loving wife. Tami was also a friend.
This is part of what she wrote in a post I shared on my blog:
"My goal is to give people hope and a different way to see themselves as a survivor and patient. I encourage my followers to be active participants in their healthcare by researching their options, getting additional medical opinions and taking care of themselves in body, mind and spirit. I feel it is detrimental to give patients death sentences. My mantra is: 'Statistics are just numbers that lump together a large, diverse group of individuals. You are not a statistic.'"  – Tami Boehmer
Tami's husband, Mike, and her daughter, Chrissy, were there when Tami transitioned in 2015. And I have no doubt she is looking down on them, very proud of the way they are choosing to LIVE and appreciate their lives. Mike just wrote this. He shared part of it on his own blog and he added his own '24 hour plan' here to remind us of how we can embrace our days, and give them more meaning. I think we can all learn from his words. I know I can.
In Mike's Words:
While walking from Fisherman's Wharf to our motel in the Marina District of San Francisco early on New Year's Eve, my 17-year-old daughter asked me to sum up 2016. We were finishing an enjoyable week in Northern California, including some great family time with Tami's brother, Doug, my sister-in-law, Kim, and nieces Kaitlin and Grace (both in their 20's).
My immediate response to Chrissy: "Glad it's over."
As she knew, I experienced some deep sadness at times in the first full year since Tami's transition. She took her last breath on Nov. 4, 2015 after living with metastatic breast cancer for almost eight years.
But, then, I recounted the many positives of 2016 for me: the college visits with Chrissy, experiencing her senior year finales, our vacations in Seattle/Vancouver and California, attending many rock shows (including Paul McCartney and Ringo Starr with Chrissy), family gatherings, a fishing trip to Rice Lake with my brother and brother-in-law, Reds games, moving to a new office at work and developing closer relationships with colleagues there, starting yoga and attending a weekly meditation meeting, remodeling our bathroom… I expressed gratitude for my widow/widower groups and grief counseling since they helped me work through the yuck.
Probably my biggest plus: Learning more deeply the value of living "one day at a time."
"You sure say that a lot," Chrissy said. My response: "I need to, so I remember it."
I told Chrissy I'm eternally grateful for the kindness and support of many, many people as I walk this unwanted path. I feel so blessed to have developed relationships with lots of people who have lost loved ones and made the best of their situations. I'm definitely not alone.
Finally, I relayed to Chrissy that I'm feeling pretty good as we embark on 2017 — much better overall than a year ago at this time. I am very, very grateful to feel mostly happy most of the time. I'm thankful for the many lessons learned, especially about the value of living life one day at a time, one moment at a time. I'm trying to remember the slogan on a coffee cup someone gave me several decades ago: "Enjoy life. This is not a dress rehearsal."
Chrissy then resumed sharing her thoughts about 2016 and plans for 2017 and beyond. It's a moment I'll never forget, listening to my wonderful daughter share her ups and downs and outlook for the future. One precious moment on one amazing day in the final hours of 2016, a year now in the rear view mirror.
Some practices to help achieve the "24-hour plan."
(1) End your day with a routine. For me that involves inventorying my day. What could I have done better? What did I do right? Was I thinking of myself, or what I could do for others? Etc. I write in a journal for several minutes, then do some reading.
(2) Start your day with a spiritual practice. Get still and say a few prayers, read a daily reflection book, and meditate briefly before heading out the door.
(3) Take breaks during the day, especially those involving physical exercise such as walking or yoga. I actually got so relaxed in noontime yoga one day that I fell asleep during our down time at the end of the session!
(4) Remind yourself to "do the next right thing." I'm amazed at how my daunting to-do list gets done when I plug away at it, instead of obsessing about it.
(5) Prioritize. Take care of the important stuff, and realize other tasks may have to wait.
(6) Connect. I can't tell you how many times I've been stressed to the hilt, but calmed down after connecting with friends or family — either in person or by phone, text or other messaging.
(7) Meditate. This has become more and more important to me. I'm learning how to close my eyes, sit comfortably, breath through my nose and clear my mind. Powerful practice, for sure.
(8) Service. Focus on what you can do for others (after taking care of yourself), instead of what you will get. See what you can bring to life, to the party.
Life doesn't always make sense to me. I don't understand how someone so special, so filled with love, and with so much to live for, is forced into war against a vicious enemy.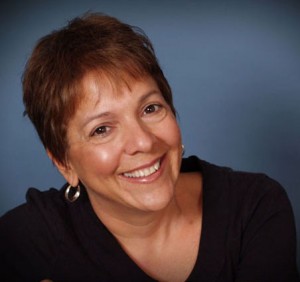 That enemy is breast cancer. And the brave warrior of whom I am speaking is my dear friend, Tami Boehmer. It was in February 2008, just months after celebrating her five year, cancer free anniversary with her husband (Mike) and daughter (Chrissy) by her side that Tami received the news – she was diagnosed with metatastic breast cancer recurrence.
To cancer – I have this to say, you have crossed the wrong person!
Tami interviewed survivors nationwide who have lived far beyond what the medical establishment predicted, and compiled their stories in an internationally acclaimed book, From Incurable to Incredible: Cancer Survivors Who Beat the Odds. Tami shares these stories, as well as valuable information on healing the body, mind and spirit; on her web site and blog, www.MiracleSurvivors.com.
Recently, Cision Navigator named Tami one of the Top 10 Most Influential Breast Cancer Bloggers on Twitter. Her blog was also named one of the top 23 breast cancer blogs by www.Healthline.com.
From Incurable to Incredible was named the winner of the Health-Medical category of the 2011 Readers Favorite Awards and award-winning finalist in the 2012 Indie Book Awards and 2011 International Book Awards. Best-selling author Bernie Siegel, MD, who wrote a foreword to her book, called it "A book everyone should read."
This Saturday, at the New Thought Unity Center in East Walnut Hills (1401 E McMillan St; Cincinnati, OH 45206) from 5 to 6 pm, she will be sharing her story.  And it is a great story to be told.