New Riff Distillery

I love this quote by Howard Thurman, "Don't ask what the world needs. Ask what makes you come alive, and go do it. Because what the world needs is people who have come alive."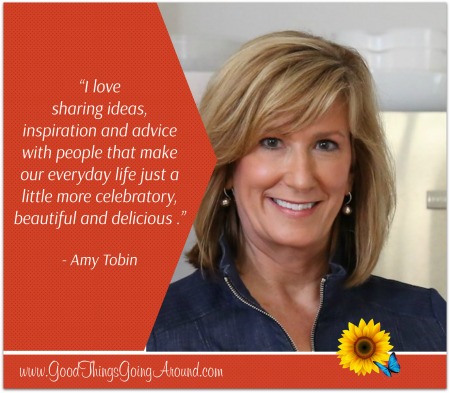 It reminds me a lot of Amy Tobin. When I think about Amy, I smile. She just has that effect on people. I'm not really even sure how we first met but each time our paths cross, what stands out to me most is her energy and enthusiasm. It is infectious.
The header on her website says it all…'Inspired Ideas'.
"I love sharing ideas, inspiration and advice with people that make our everyday life just a little more celebratory, beautiful and delicious," she told me. "I'll never forget, one Thanksgiving years ago, looking around the table and taking such pride and pleasure in the mood, the food and the experience I had created for my family. I was also struck by the fact that creating a holiday meal, dinner party or even a weeknight dinner, didn't come easily to everyone. That fueled my focus on creating easy, approachable "food for family and friends" and my cookbook by the same name. From time saving ideas to presentation tips to products I love, I especially love when people let me know that something I've shared with them has made a difference in their life."
Amy has come a long way since throwing her first dinner parties in high school. These days she divides her time between being director of the Event Center at New Riff Distillery, owner of Amy Tobin & Company (a lifestyle consulting company) and host of Amy's Table on WKRQ/Q102 (and spending quality time with her family and friends).
"My passions are found in my work, from creating great food to interviewing interesting guests to encouraging my team to expand and grow, I love how I spend my time.  These same channels allow me to give back to the community, too.  From raising awareness on-air to MC-ing events to my team and I working with Northern Kentucky youth, I try to share my resources with the community," she told me.
Lisa: What are some of your simple pleasures; why are they simple pleasures, and how do they make you feel?
Amy: My morning ritual is a simple pleasure that I couldn't live without! My husband brings me coffee in bed every morning and I honestly savor it as I wake up and think about my day. I do a bit of reading, journaling and meditation before my feet even hit the floor.  I know this practice puts me in a great position to seize the day.
Lisa: Do you have a favorite saying or words you live by? If so, what and why?
Amy: My favorite saying comes from Emily Dickinson who said "I dwell in possibility".
I dwell there, too. I frequently put the "what" I'm trying to do before the "how" which creates endless possibilities in the way I work and play. I don't focus on obstacles-  instead I spend my time thinking about life's potential.