Ohio National Financial Services
There is something so magical about the holiday season and so many fun traditions. This is one.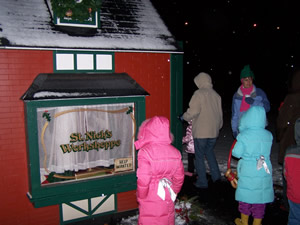 For the eleventh year, Cincinnati's Ohio National Financial Services is bringing back its Victorian Holiday Village. It features child-sized houses, decorated scenes, cookies and cocoa, free 5 x 7″ photos with Santa, and more. The ONtime Express, a miniature train, will take guests from the parking garage to the Village, and balloon artist elves. Returning this year is the Century House. A miniature scale replica of a Habitat for Humanity home celebrates Ohio National's 100th anniversary commitment to build 10 new Habitat for Humanity homes in the Cincinnati community over the next five years.
It all takes place at Ohio National Financial Services at the intersection of I-71 and Pfeiffer Rd.
The Village is open:
Friday, November 30 from 6-8:30 p.m.
Saturday, December 1 from 5-8:30 p.m.
Thursday, December 6 from 6-8:30 p.m.
Friday, December 7 from 6-8:30 p.m.
While admission to the event is free, all guests are asked to bring a nonperishable food item (no glass containers, please), which will be donated to the Freestore Foodbank.
The Village will remain lit throughout December, but the refreshments, photos and entertainment will only be provided during the four nights above.