Paw Joggers Run

It was in November of 2008 when Billie Mendoza retired from a long career with Delta Air Lines, a move that propelled her into a new line of work. Billie's Paw Joggers dog exercising and pet sitting business has grown into one of the region's premiere services of its kind. Along the way, her passion for running and animal (human and non-human) welfare has found her volunteering with her feet and her time to raise money for worthy causes. Then, through her business, she founded her own Paw Joggers Animal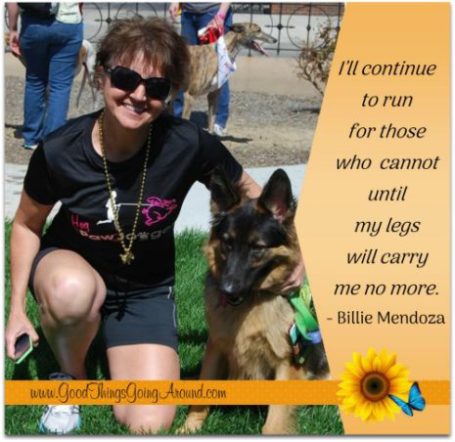 Community Fund as a nonprofit organization dedicated to supporting local animal rescues, shelters and advocates. Next weekend, October 15 and 16, is its fourth annual Paw Joggers Run and I'm proud to be a part of it for the third year…this year as the Ask-The-Trainer at its new EXPO on Saturday (from 3 to 6 pm at United Pet Fund in Blue Ash). The Run will be on Sunday morning at Sharon Woods. There are 36 beneficiaries this year!
Billie is one of the most upbeat people you could meet, always filled with positive energy. She has been so supportive of me with my training and it's great to participate in her event. I wanted you to get to know a little about her. Please see my interview below, followed by details for the upcoming race.
Hope to see you next weekend!
Lisa: Talk to me about your passion for creating this race and how gratifying it is to see its success.
Billie: I believe the passion for creating this VERY charitable and dog-friendly run stems from my 18 years of running FOR charity—the Leukemia and Lymphoma Society. Knowing I can give back to the people and animals in this great community is extremely gratifying. Seeing the growth of this race is what keeps me and our team of volunteers motivated to continue, make it better each year in turn benefiting our local animal welfare community even more.
Lisa: How difficult is it to organize a race AND run a successful business?
Billie: The most difficult (hectic) part of organizing a run event is the 30 days prior and up to race day. Since the work is all voluntary, it takes a great team of dedicated VOLUNTEERS to pull an event like this together. Race week is the craziest. Running a business and ensuring you have time for family, friends…and your own health are priority. This being our 4th year has made it easier, but it's those cogs thrown in the wheel, that can easily disrupt the fluid motion. Life happens…and I appreciate every day!
Lisa: Talk to me about your personal race history of participation.
Billie: I was an athlete in high school; cross-country running, track and cross-country skiing and stayed very active into my early 20's. My son was born and I didn't start running regularly again until age 33 when I signed up to run The Flying Pig Marathon with Team In Training. Go big or go home right?! Well that was 1999, the inaugural Flying Pig, and I've run every "Pig" through 2016, All with Team in Training, raising over $25,000 for the Leukemia & Lymphoma Society. They call those who run consecutive races "Streakers" so yes, that's me…a streaker. More importantly, I've bonded with the most wonderful people, have had tremendous coaches and the most lovely heroes to run in honor of for through Team In Training. I'll continue to run for those who cannot until my legs will carry me no more. Running keeps me centered, happy and healthy! Now, off to some carb-loading as I prepare to run the Queen Bee Half Marathon in the morning.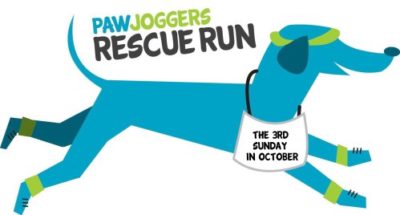 About the Race
The 4th Annual Paw Joggers Rescue Run: is Sunday October 16, 2016 in beautiful Sharon Woods Park. There's a chip-timed 5K for runners and walkers of all speeds or a relaxing 2K walk (strollers ok), both with or without a well-behaved dog.  The run/walk begins at 10 AM; festivities are from 8:30 AM to noon.  There are prizes for 13 categories in the 5K.
Register online at http://pawjoggersrescuerun.com.  Registration includes a donation to your selected beneficiary, a Technical long sleeve T for the 5K, a long sleeve cotton T for the 2K, and everyone's favorite shirt for your pup.  The wag bag also includes dog toys and treats if you register a dog and a virtual goody bag with online coupons for discounts and freebies for everyone; you click and print the coupons you want.  No wasted paper.
New this year:  the PJRR EXPO at the United Pet Fund Resource Center :  11336 Tamarco Dr. Blue Ash  45242 from 3-6 pm.  Visit vendors with great products and services for you and your dog, canine and human exercise information,  ask-the-dog trainer booth, food trucks, late registration and one last packet pickup (no packet pickup on race day), raffles, and meet the people behind the PJRR.
Miscellaneous Race Information:
Both the run/walk and the EXPO are family- and pet-friendly.  The EXPO is open to anyone, even if not interested in participating in the Sunday Paw Joggers Rescue Run.
Early online registration fees through 9/30/16 are $35 per person 5K, $25 for the 2K, children under 8 free (no shirt); $15 per dog; fees for humans increase by $10 after that date.  Parking is included.  You can still register at the packet pickup locations and on race morning but preferred T-shirt size is not guaranteed.
Race Headquarters and starting line are at the Cardinal Crest Shelter.  There are 2 restrooms within a short walking distance, additional stops along the 5K race course.
This year's theme: Paws for the USA
General questions email info@pawjoggersrescuerun.com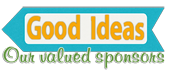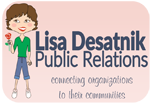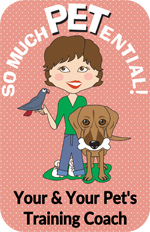 I have always had a love for dogs. Our home in fact was never without one growing up. Jolie, our poodle, was a dear and special friend to me until she died at the age of about 18. Now training dogs as a second career is a real passion for me.
And for Billlie Mendoza, owner of Paw Joggers, keeping dogs healthy and happy is an equal passion. I am so impressed that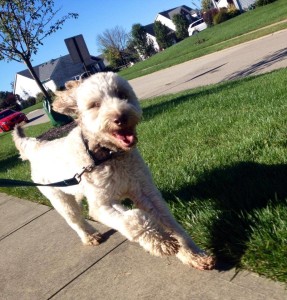 now, this owner of a successful dog walking (and jogging) company is turning her business skills toward raising money for our area's important rescue organizations.
The first annual Paw Joggers Run will be this Sunday, October 20 at Sharon Woods (11450 Lebanon Rd, Sharonville, OH 45241). There is both a 5K and a 2K course for runners and walkers. It is a pet-friendly and family event so bring your favorite four-legged friend with you. Registration that morning begins at 7:30 am and the race begins at 9 am.
What I love is that 100% of the registration fees ($35 to $35) will go toward one of 24 qualified organizations from our Cincinnati area animal welfare community. You can select a beneficiary as part of your online registration process if you'd like. NOTE that there is a $15 canine registration fee per dog.
The Paw Joggers Animal Community Fund (Paw Joggers ACF) is a nonprofit organization dedicated to supporting the local animal welfare community through events, awareness, and monetary donations.  The Paw Joggers ACF and its events are powered solely by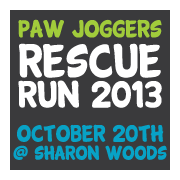 volunteers.
Register to walk, run, or VOLUNTEER through the Paw Joggers Rescue Run website http://pawjoggersrescuerun.com