pediatric cancer
There is something so powerful as to evoke raw human emotions. That something is a photograph, a reflection of the human spirit that can change how you see the world around you. And give you an everlasting gift of loved ones and experiences…and life.
I've written before about the work of internationally acclaimed photographer Rick Guidotti (founder of Positive Exposure), who I came to know and admire through my work with the Cincinnati ReelAbilities Film Festival. Through Rick's lens, the world has come to see beauty in difference and difference as just another quality that makes us uniquely human.
Giving Flashes Of Hope To Kids
Another organization,
Flashes of Hope, is all about using photography to change the way children who have cancer and other life threatening illness see themselves (and raise money
for pediatric cancer research).
An annual report describes its purpose beautifully: "The images help the children see themselves full of strength and determination: cancer is not going to define who they are. But for too many families, it is the last photograph they have of their child. All of these children deserve a lifetime of memories and research is the only way to save more lives."
Wow, talk about impact. I learned about Flashes of Hope when I saw some Facebook posts from a photographer I worked with years ago, Helen Adams. She is one of the founders and co-directors of the local chapter that works with Cincinnati Children's Hospital Medical Center.
A visual artist who has spent over thirty years capturing the human spirit, Helen has been called upon several times by people wanting to have forever portraits of a loved one with little time remaining. "It is the greatest privilege to be asked to participate in that way, to give them such a gift," she told me.
Ironically, it was when Helen was experiencing the wrath of cancer through her husband's two biopsies and a client learning of a leukemia diagnosis that she found Flashes of Hope, based in Cleveland.
"When you are struggling with your own life, the best thing you can do is to be of service to other people," Helen said.
She reached out to Mark Bealer and Vicky Daniels of Studio 66, and together they started the Cincinnati Chapter.
In their words
Mark, Vickie and Helen share on their Facebook page why they do what they do…
No matter how tired, stressed or busy the 3 of us are as photographers and entrepreneurs, parents and small business owners; We roll up to the hospital parking lot, walk in and all of that washes away while we bear witness to the struggles of the innocent children who many times live their life in the hospital, away from
their home cities and friends!
The children become our heroes, as we watch them sacrifice how they may feel that day, and provide gifts of pictures for their family. The kids seem to transcend into another dimension of selflessness as they smile, pose and energize the shoot, while at the same time they ignore their own limitations of perceived health and beauty.
While we may not currently have a personal connection to cancer, our motivation stems from a deep compassion for any child that suffers undue pain and misery. And, the Flashes Of Hope organization is a wonderful choice for us, providing not only the avenue of the aesthetic photograph, but also tangible relief of money for research for those we have come to consider as our Cincinnati Chapter kids.
Currently their Cincinnati Chapter has 20 volunteer photographers who give of their time capturing images of 8 to 15 kids a month at Children's Hospital. Mitchell's Hair Salon provides hair styling for those with hair and make up.
You can help by giving of your time or making a donation. To find out more, visit www.flashesofhope.org and click on 'support'.
To see more of their photographs, please like them on Facebook.
I can't think of anything more tragic for parents than losing their beautiful, precious child far too soon to the senseless and vicious enemy known as cancer.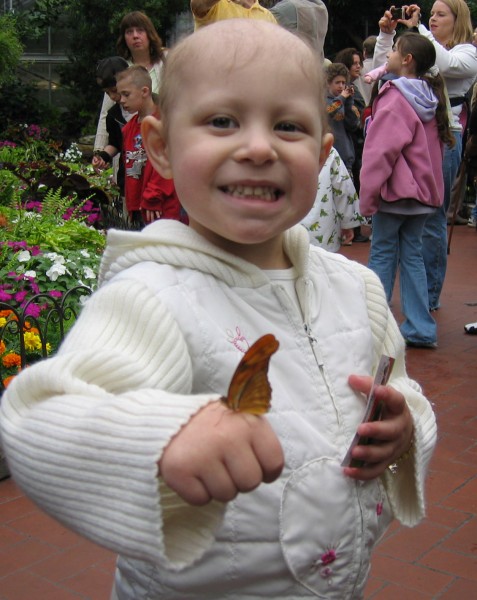 Hanna was a happy, healthy 2 ½ year old girl who loved to smile and laugh and spread sunshine where ever she went. It was just two days after she told her mom and dad her back hurt, that she was diagnosed with Neuroblastoma, a cancer that develops in the nervous system in embryo. Suddenly a family who was counting their blessings was entrenched in a war against an enemy that had no sympathy.
After only seven short months, many surgeries, and 6 rounds of chemotherapy, Hanna lost her battle with this disease on Father's Day 2006.
Her gift to this world continues.
But while the little girl with a smile that spread as quickly as her disease was no longer on this earth, cancer could not remove her spirit. What a true sense of bravery and love her parents have shown in allowing their daughter's gift to touch so many other families and children.
In Hanna's memory, Amy and Mike Paribello began the Butterfly Walk to benefit CancerFree Kids. "We can only hope that with further research funding, children like Hanna will have a better chance for a cure in the future. Hanna showed us all how to fight a battle, how to be courageous, and how to dream," Amy said.
 The Butterfly Walk is May 12.
The Butterfly Walk and Fun Festival brings together people and businesses who share in the celebration of love and support for children. The name was inspired by the magical metamorphosis of a caterpillar into an enchanting symbol of peace and harmony. That transformation into maturity is something not all children with cancer have an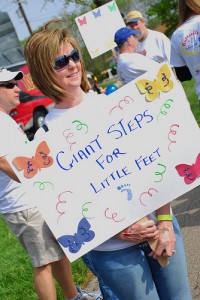 opportunity to experience.
"But," said Amy, "together we can make a difference and help further the research towards treating and curing this disease, forever."
If you visit the Butterfly Walk website you will read the stories of so many other children who are the reason the Paribello's and all of the other volunteers work so hard.
I asked Amy how it feels to know they are making such an impact. "I am fueled by the constant need to continue our fight.  Over the past 6 years, we have lost 3 of our "heros", who have lost their battle with cancer.  It is heartbreaking to know that one year they are up on stage receiving a medal for their courage, and then the next year they are an angel in heaven.  We are truly committed to giving these children a voice, and fighting for their survival by advancing the progress of pediatric cancer research.  Our mission is for one day for all kids to be CancerFree."
Butterfly Walk & 5K
Registration will begin at 8 a.m.
Cottell Park in Deerfield Township
Cincinnati nonprofit CancerFree Kids was founded by Ellen and Sam Flannery after their baby daughter was diagnosed with cancer at 5 months of age. Today, due to advances in cancer research and the grace of God, that baby is a healthy 8th grader. But there is much work to do. The organization raises funds to support research in pediatric cancer.