Pete Sampras
A week ago from Saturday at this time, I was preparing to leave for my second day of volunteering at what has grown into one of the world's largest, most prominent stopping grounds for top athletes – the Western & Southern Open tennis tournament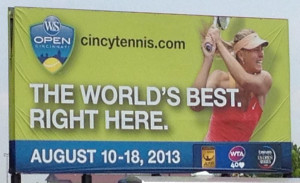 held in Mason, Ohio.
For more than 16 years (I've lost count although I took a couple years off), this has become a tradition for how I begin to draw my summer to a close. For five days, I and some 100 other volunteers transport players and their families, staff and guests, media, U.S. Open staff, and other tournament guests to and from the airport – and anywhere else they want to visit while spending time in our wonderful Greater Cincinnati region. In the evenings, when my shift is done it is time to relax as a spectator, dividing my time walking the grounds to say hi to people I know and sitting in the stands cheering for hard fought rallies.
The experience has given me an opportunity to meet diverse people from all over the world, each with different stories and reasons for coming to Mason. The one trip that I never like to make is when I have to drive someone back to the airport after flying here, giving it his or her all, and then losing in a qualifying match. I know that is just part of the profession, and to make it, you have got to keep going, working hard and persevering. Still, it is not easy and it is very expensive.
It has been great to see the evolution of this competition – the nation's oldest professional tennis tournament – on the beautiful grounds just across the roadway from Kings Island. Years back this was not a required tournament for the tennis professionals. Still, many of the top players chose to attend because they enjoyed spending time here. Greater Cincinnati fans and the tournament team made them feel so welcome.
I remember the days of when Andre Agassi, with his long hair, would draw adoring lady fans. When Pete Sampras would win games and then sets and then matches from the sheer power of his serve. And when the Bryan brothers were young teenagers who stole hearts with their California surfer looks and their signature chest bumps that still to this day sometimes celebrate triumphant wins.
Yesterday the tournament finals marked the close of yet another fun, very hectic week. In the men's match, it was a battle of wills. John Isner, the unseated American going into the tournament whose resilient attitude saw him winning victories over three top players before coming face-to-face with one of tennis's all time great superstars, Rafael Nadal who, up until Sunday, was never able to pull off a title in Mason.
Before a sell-out crowd, the two fought every point. Each set went into a tie-break. And in the end, only one could hold up the championship prize. But really they were both champions if you measure their heart.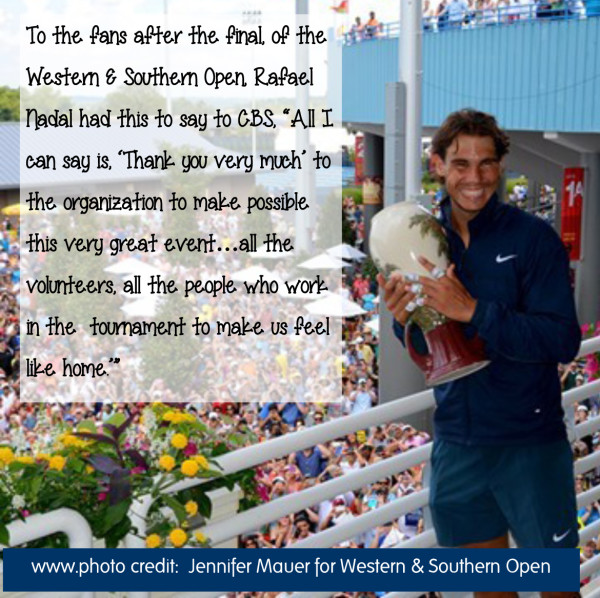 On Saturday, John thanked the American fans for giving him energy. "The crowd had been a factor for me all week actually. It was a factor for me yesterday, and you guys were absolutely fantastic for me again today. I cannot thank you enough. I can't wait to be out here tomorrow."
To the fans after the final, Rafael had this to say to CBS, "All I can say is, 'Thank you very much' to the organization to make possible this very great event…all the volunteers, all the people who work in the tournament to make us feel like home.'"
John and Rafa said it well. Every day that I was a part of the Western & Southern Open, I saw the dedication of the volunteers, not just on my committee but throughout every committee. And I knew that behind the scenes were dedicated staff who made it all run like a well oiled machine. Those two comments are a real reflection of what makes this region so awesome, and what gives me pride to give of my time to be a part of the event.
Soon, the small team of organizing staff and the volunteer committee chair people will have a chance to catch their breath, reflect, relax – and begin preparation for next year. It will be back before we know it.