NOTE:  This is a speech that I just gave at my Toast of the Town Toastmasters Club in Kenwood. We meet every Tuesday at Noon and would love to have you join us as a guest or member. Please contact me to learn more!!
Darrell Royal once said, "Luck is what happens when preparation meets opportunity."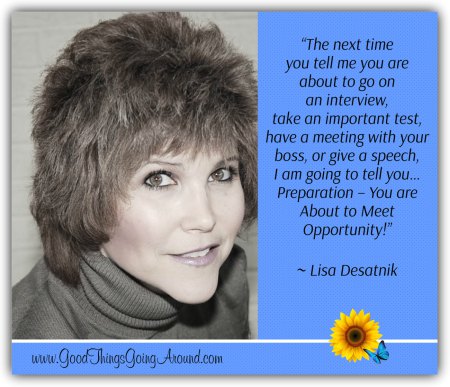 I can't remember when I have been more reminded of that in such a short period of time than those hours a week that I spent watching one of my favorite shows, America's Got Talent – the audition rounds. 'Good luck or Best of Luck,' are the phrases that I heard more than any other phrase when introducing the acts. Let me tell you about a few of those performers who were introduced with one of those phrases.
Kechi Okwuchi has a beautiful voice that touches you deep in your soul. She moved every judge, the entire theatre audience and millions of viewers who were watching from their televisions or computers. Kechi was 16 when a horrific accident nearly took her life. She was one of two survivors in a deadly plane crash with massive burns covering her body. There have been many moments where the pain was unbearable. She endured more than 100 surgeries. And she is still haunted by the memory of that day. Singing helped her to cope. It has her therapy, and a source of strength. Just before Simon wished her, "Best of luck", she told him, "Lying down in the hospital bed with bandages from head to foot, music was my escape, and that's why it means so much to me."
Preacher Lawson is a gifted comedian, so gifted in fact that Simon told him this was not only an opportunity for America to see him but also for those who could write a sitcom around Preacher. "You are that good," Simon said. Preacher was one of four children raised by a single mother. They experienced homelessness. They had nights where they slept in a car. But through it all, Preacher's mom inspired him and encouraged him. "She was super creative," he said in an interview. Preacher has been struggling to practice his comedy for eight years, many times in comedy clubs or coffee shops where it is hard to get stage time, sometimes before an audience of three. He never gave up.
Bello Nock is that goofy clown guy with the orange spiked hair who, upon a dare from Simon, shot himself out of a cannon over a running helicopter to vie for a spot on the LIVE show. Bello is a seventh-generation circus performer who has been a performing since he was six, and today performs some 500 shows a year with Ringling Brothers. He was named America's Best Clown by Time Magazine and greatest athlete to perform in Madison Square Gardens by the New York Times.
While their stories are very different, Kechi, Preacher and Bello are all clear examples of where life and preparation created opportunity.
So, why is it then, that wishing them Good Luck just doesn't seem appropriate to me? Why do I not like it when people say Good Luck before a surgery, a job interview, an event, or a speech?
To answer that, let's look at the dictionary definition for the word 'luck' where it is defined as "success or failure apparently brought by chance rather than through one's own actions" or "chance considered as a force that causes good or bad things to happen."
Hmm. Going back to that quote by Darrell Royal, I think what he meant in his quote was that 'luck' really is not luck at all.  And it just doesn't feel right wishing someone 'Good Chance' when there are so many other more effective, powerful things that you can say to someone. After all, chance is not what got Kechi, Preacher and Bello to that stage. It is not what ultimately lands jobs or promotions, causes an event to succeed or an operation to fix a problem.
So, what then are some more appropriate things you could say to someone as they embark on a life experience? Here are a few suggestions.
You are going to be awesome!
Go get'em!
You've got this!
I can't wait to see how you do!
Just remember…you are fantastic!
You're so talented!
Or how about, "Preparation…Meet Opportunity"
Yeah, I like that!  The next time you tell me you are about to go on an interview or an audition, take an important test, have a meeting with your boss, or give a speech, I am going to tell you…Preparation – You are About to Meet Opportunity!