seizure service dog
I'd like to introduce you to Evan Moss and Mindy. At 8, Evan is the brown-haired, bright-eyed who likes to run, play electronic games, laugh, and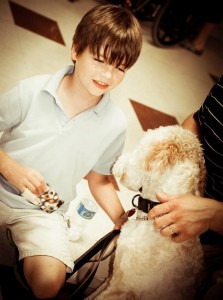 write. Mindy is the blond, curly-haired golden doodle who was born into this world to spread love…and save a life.
In 11 days time at 4 Paws for Ability, they became BFFs (best friends forever) sharing a common purpose of ensuring that one little boy with a golden heart can ultimately grow into a caring, accomplished adult.
Let me explain.
Evan was born with tuberous sclerosis complex (TSC) which causes tumors to grow within his vital organs – mostly in his brain, eyes, heart, skin, kidneys and lungs. His first seizure came when he was just a few weeks old. Not long after, doctors needed to remove a tumor from his brain.
Now Evan has night time seizures about 10 days, happening mostly while he sleeps. Most of the time medical attention is necessary. I'm sure you can imagine the stress that has given his parents, and insomnia many nights.
Now they all have relief knowing Evan now has a four-legged friend who can recognize the signs of seizures and make sure he is safe.
Mindy is a 4 Paws for Ability Dog
Located in Xenia, Ohio, 4 Paws for Ability is a wonderful nonprofit organization that provides service dogs to children with a variety of disabilities and to veterans from recent conflicts who have lost use of their limbs or hearing during combat.
Their high success rate of raising dogs for service work is attributable to many factors including that the majority of animals in the program are bred at their facility. 4 Paws also trains with positive reinforcement strategies. I love that they have partnerships with a number of area correctional facilities where inmates earn the privilege to do something positive by way of being a trainer.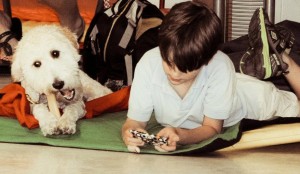 Evan, the top selling author
One of the requirements of 4 Paws with its applicants is that they submit a drawing or essay. Evan wrote a book.
What came next was something no one predicted. The media caught wind of what Evan had done. Feature stories led to long lines wherever Evan held book signings. His book, "My Seizure Dog" sold about 4,000 copies, was the No. 1 best seller on Amazon.com's 'Kids Health' section, and was featured on Amazon's homepage. Now there is even a Kindle version.
But the best part was, Evan raised the entire $13,000 cost of having a new BFF and a new lease on life.
To read the full story on Evan and others who have benefited from 4 Paws for Ability, please visit their blog.
Photo credit:  Jessica Noll, community/media relations director for 4 Paws for Ability.