shoe donation
What a gift this blog has given me to get to meet truly beautiful people, people who give with their whole hearts realizing they have the capacity to affect lives.
Meredith Bailey is one such person. A senior at Walnut Hills High School, our paths crossed for the first time several weeks ago when her proud mother reached out to me. Karla wanted me to know about this special young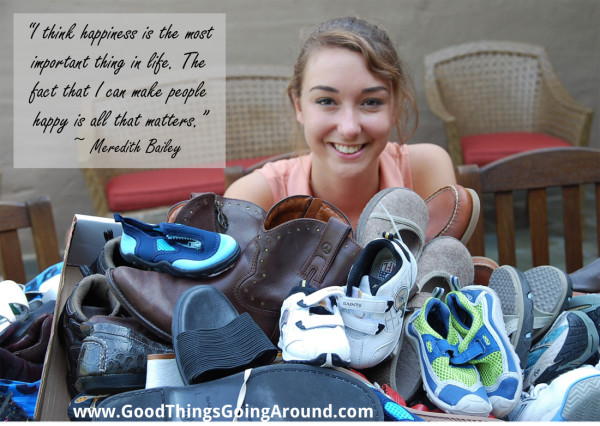 philanthropist who has quietly been collecting shoes to share with those who otherwise would not be able to afford one of the great necessities that we so easily take for granted.
It began about four years ago. The Walnut Hills High School senior was looking for a Girl Scouts community service project. She donated a lot of shoes to Nike who recycled them for padded floors of playgrounds built in underserved neighborhoods. Then she gave shoes to pantries and Cincinnati nonprofits, and before long word got out. The requests kept coming in.
"I couldn't turn my back," Meredith told me. "Sure, sometimes I wish I had chosen something easier and there is nothing worse smelling than a carload of smelly gym shoes on a hot summer day but it's a good feeling to know I am helping people."
Meredith estimates she has collected, sorted, cleaned and distributed some 6,500 shoes since she began. Hundreds of pairs were given to Project Connect, to ensure Cincinnati Public Schools students who are homeless have something to wear on their feet when they come to class. She delivered 75 pairs of boots to Rockwern Academy last December. Six Cincinnati area nonprofits including the YWCA Battered Women and Children's Shelter are also on Meredith's list.
And about 300 shoes were given to SOTENI, who will give them to people in the villages of Kenya where native Cincinnatian Randi Marsh has established a program to fight AIDS.
I stopped by the Bailey's house the other day to meet Meredith in person. A beautiful, tall and slender teenager greeted me with multi-colors of paint all over her hands. "I am a counselor at Girl Scout camp," she explained. I had figured her summer job would have something to do with giving back.
She took me to her back porch where she had only a fraction of her shoe collection. (She had just given hundreds of pairs to Project Connect.) It was then, seeing her expression as she looked into the piles that I could really see deep within her soul. There, standing in front of me, was a young woman who hadn't even decided upon her college yet but who had the foresight many don't accumulate in their lifetime.
It is one thing to see in an email the words from someone telling you how happy it makes her to know she is helping people. It is a totally different experience to hear those words from a voice that crackles in raw emotion as she internalizes the impact of her good deeds.
Meredith spoke of a child who was able to attend camp because now there were shoes to cover her delicate 1.5 sized feet. And of the girls she came to know at a Girl Scout forum who put a face to the poverty in Kenya Meredith had until then only heard about through the news. One of them who had little or no material possessions had aspirations of becoming a doctor one day.
"It really gives you a different perspective on how much we have and they don't have," Meredith told me. "Those girls don't have much but they still have dreams. They are so strong despite their circumstance."
For me, I think strength can be measured in so many different ways. Caring and putting those feelings into action builds many of those muscles.
"I think happiness is the most important thing in life. The fact that I can make people happy is all that matters," Meredith said.
If you have shoes to donate to Meredith's cause, you can email her at: WeBeBailey@aol.com.