Shroder High School

A freshman at Northern Kentucky University, Jayren Andrews has already long established himself as a change agent.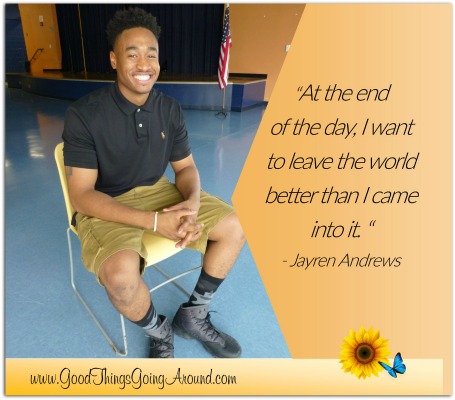 Wise beyond his years, he is a young man driven to be a voice, a leader, and a role model for his peers, his neighborhood, his network, and even his world. While attending Shroder High School, Jayren competed at the state level in track and was on the second team All-Conference in football; and in his senior year, was an award winning public speaker. By 17, he was president of the Avondale Youth Council, guiding other young people to making good decisions. He is also one of two youth selected to serve on the Cincinnati Poverty Collaborative Steering Committee, and is very involved in college.
"Being on the Collaborative's Executive Board was an opportunity to represent my neighborhood, Avondale," he told me. "My concern was digging down and coming up with substantial solutions to help get people out of poverty. That opportunity was humbling to be with so many different people who all have the same goal."
When he thinks about his own life and his motivation, Jayren will tell you it is those trials and tribulations that are your 'defining moments of character' and that learning from one's failures is a key to accomplishment. His mentors through the Cincinnati Youth Collaborative are among those who have influenced his growth. Jamie Wilson, his CYC AmeriCorps College Guide, allowed him to absorb his shine for the moment, come back and be humble. "She showed me that hard work is everything. There really isn't anything that you can't accomplish," he said.
Jayren paused as he recalled another person who has influenced his life, his little brother who was gone too soon, a baby who didn't live to see his first day. "I think about him every day. I want to show him what kind of big brother I could have been," Jayren told me.
Most recently honored by the United Way of Greater Cincinnati with its 2017 Youth Leadership Award, last year the Cincinnati Youth Collaborative recognized Jayren among its mentees as a 2016 Outstanding Student Award winner for his determination in overcoming life obstacles to find success in his education and in life.
To my question about what Jayren would like to do with the rest of his life, he answered, "At the end of the day, I want to leave the world better than I came into it."
To that, I say, that goal has already happened. And I have no doubt Jayren's little baby brother is proud.
Last fall it was so wonderful to have been given the opportunity to learn about one of our region's truly great philanthropists – Roger Grein when I helped raise awareness of his contributions. Roger has given to local nonprofits with his resources and his heart. However, his greatest legacy is in the hearts of thousands of young people in whom he and his Magnified Giving team of staff and volunteers have instilled long lasting generosity.
Magnified Giving is a nonprofit organization whose mission it is to educate, inspire, and engage students in philanthropy. Its vision of Magnified Giving is for every high school student in America, starting with the Greater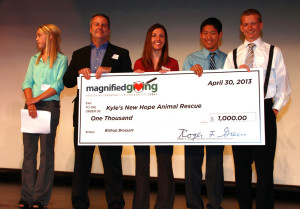 Cincinnati and Northern Kentucky area, to someday have the opportunity to learn first-hand how to be generous and wise philanthropists.
Each year, participating school groups are challenged to determine how they want to invest up to $2000 in a nonprofit. They research, evaluate nonprofit grant applications, fundraise to earn matching dollars – gaining leadership, communication, and teamwork skills as part of the process. This spring in a packed auditorium of over 600 students, teachers, nonprofits, donors, parents, and community leaders, nearly $50,000 was presented to causes doing great work.
"The most rewarding aspect of Magnified Giving is when what we do in the classroom reaches beyond the walls of the school in a tangible way. I see students 'get it' when they come back from a site visit," said Julie Vehorn, director of curriculum and instruction at Roger Bacon High School overseeing her school's Magnified Giving program.
Participating Schools
Aiken College & Career
Arlington Heights
Bethel-Tate
Bishop Brossart
Chaminade Julienne
Cincinnati Country Day
Cincinnati Hills Christian Academy
Covington Catholic
Dater
Elder
Holmes
Indian Hill
Kings
Loveland
McAuley
McNicholas
Miami Valley Christian Academy
Mother of Mercy
Mt. Notre Dame
Notre Dame Academy
Perry High School
Reading
Roger Bacon
St. Henry
St. Xavier
School for the Creative and Performing Arts
Seton
Shroder
Starfire University
Summit Country Day
Taylor
Ursuline Academy
Wyoming
Pilot Programs
Madeira Middle School
Northern KY Youth Advisory Board