St. Josèph Lycèe in Reims
What an unbelievable experience for these Ursuline Academy students – going to Paris! It was part of a pilot Academic Exchange Program with St. Josèph Lycèe in Reims. Seniors Jessie Ewen of Loveland and Brooke Kurkjian of Mason and juniors Julie Ivers of Symmes Township, Katie Polson of Mason, Zenab Saeed of Indian Hill, and Catherine Strietmann of Mount Lookout, were accompanied by Ursuline world languages teacher Lynda Hoffman-Jeep and guidance teacher Katy Zwolinski.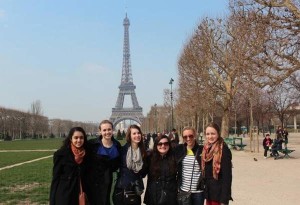 "The French Exchange Trip was an experience that truly changed my life. I learned that traveling abroad gives you a learning experience that you can never receive through a classroom or in a textbook. It is something totally unique that you cannot understand until you visit the country," Catherine Strietmann said.
The students spent time with their French host families, whose daughters are part of the pilot academic exchange program and visited Ursuline Academy this past spring. While in Reims they attended classes at St. Josèph Lycèe, and some of them even stayed in the school dorms. The Lycèe attracts two-thirds of its students from Paris and the surrounding countryside, and is a boarding school as well as a day school, Hoffman-Jeep said.
Ursuline will host another group of female students from St. Josèph's next spring.