suicide prevention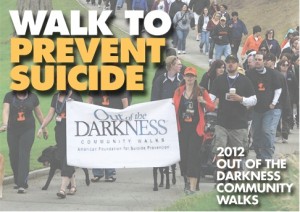 On Sunday, October 14, over 2000 people are expected to unite at the University of Cincinnati's McMicken Commons and walk together to raise awareness (and funds) about the need for the important work of the American Foundation for Suicide Prevention (AFSP).
 Emily Reitenbach-Molina will be among them. Below is her story: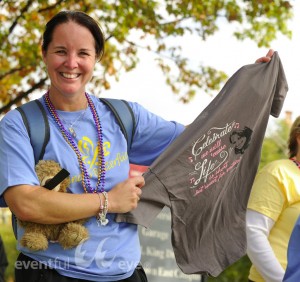 We walk first and foremost to pay tribute to Shannon's life. We don't want how her life ended to define who she was, so we walk to remember how she lived.  Shannon battled for more than half her life with an eating disorder, which is a physical, emotional and mental illness. It was her illness that controlled her life. She wanted to battle this disease alone, but her illness was bigger than she was. Although Shannon was never alone, her disease prevented her from seeing that. We don't want anyone else to have to suffer the way she did, no one should have to battle any illness feeling alone. Asking for help is not a sign of weakness. For so many unfortunately, there are not treatments for their illness, but fortunately for those who suffer with depression and mental illness, there is help and you can and deserve to live a happy and healthy life. We walk to make sure people know that they are important and we need them here. We walk to provide a voice for those who suffer in silence. 
We walk to give hope and support to others so they know they aren't alone in this journey. We walk to raise funds for education and research, but most importantly, we walk  to raise awareness, for our own healing and prove that, "broken hearts, still beat." 
The American Foundation for Suicide Prevention is at the forefront of a wide range of suicide prevention initiatives — each designed to reduce loss of life from suicide. Among them:
Fund scientific research
Offer educational programs for professionals
Educate the public about mood disorders and suicide prevention
Promote policies and legislation that impact suicide and prevention
Provide programs and resources for survivors of suicide loss and people at risk, and involve them in the work of the Foundation
The local Cincinnati Chapter has a number of important programs including providing education for teachers, support for survivors, and developing a web-based program for reaching at risk students.
With a suicide attempt estimated to occur every minute of every day in the United States and over 38,000 lives lost each year, the importance of AFSP's mission has never been greater, nor our work more urgent.
This weekend will be the AFSP's 9th Annual Out of the Darkness Walk. Last year over 1,500 people participated and they are expecting many more this year. It is a FREE event (however donations are welcome), and is very family and stroller friendly, with a 3 mile walk around the perimeter of the University of Cincinnati's McMicken Commons. Day-of registration begins at 10 am. with the walk beginning at 11 a.m.