summer
When you talk about organizations working together to strengthen young lives, this is a great example. This summer the Housing Authority of Covington partnered with YMCA Camp Ernst to offer urban kids an opportunity to grow in truly amazing ways.  In doing PR work for the YMCA, I got to see it firsthand.
For 7 weeks, children in Covington public housing learned new skills, gained confidence, got to know kids from completely different backgrounds, strengthened their academics, and of course participated all of the fun activities offered at YMCA Camp Ernst.
The program was for 25 children between the ages of 6-13 and included an intensive therapeutic group experience with educational specialists, mentors, community leaders and peers in a safe, supportive environment.
Each camp day began with academics focusing on reading and math skills because statistically urban kids fall behind in the summer time. There were also five paid high-school juniors and seniors to provide one-on-one mentoring.
The story got picked up by the Associated Press. To see the story from USA Today, click here. YMCA Camp Ernst – Housing Authority of Covington AP story
To read the article from the Kentucky Enquirer, please click here. YMCA Camp Ernst – Housing Authority of Covington Kentucky Enquirer story

"Baseball is such a metaphor with life. There is so much humility built into the game. We knew with the right volunteers and leadership, the League could bring that message home."

            ~ Charley Frank, Cincinnati Reds Community Fund executive director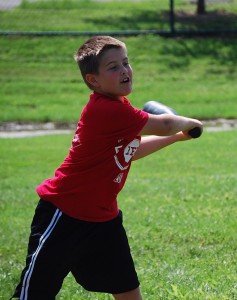 What a wonderful gift the Cincinnati Reds Community Fund has given local children in urban neighborhoods. Each summer for the past nine years, Schmidt Fields has been filled with laughter and hi-fives. Kids, many of whom had never picked up a baseball before, are creating memories, learning the fundamentals of America's favorite pastime, and being prepared for an enriched life in a character-based curriculum.
The Cincinnati Reds Rookie Success League is a free summer coed camp. At Schmidt Field – two days a week there are more than 170 kids from YMCA of Greater Cincinnati afterschool programs and some from the Cincinnati Boys and Girls Clubs; and two days a week there are children from the Cincinnati Recreation Commission. There are also camps in Fairfield, Mason, and Louisville. Collectively, more than 1,500 children participated this year.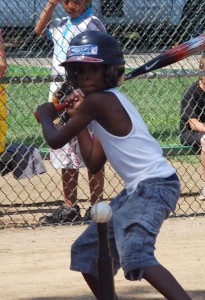 "At the YMCA we know participating in sports is a great way for teaching kids that being active is a lot of fun, and more than that, sports are also a great environment to build their confidence and teach them skills that will help them grow into positive, contributing adults later in life," said Chuck Barlage, executive director of the Williams YMCA who coordinated the YMCA participation. "We are so appreciative to the Cincinnati Reds for stepping forward to provide these learning experiences for our kids."
According to the Reds, minus interns and a handful of staff, the vast majority of the coaches are volunteers who care. Some of the Cincinnati Reds players also stopped by.
"The league is intended to teach the game in a very safe, fun and non-threatening environment," said Charley Frank, executive director of the Cincinnati Reds Community Fund. "However, we want the kids to leave with familiarity with the "Six Stars of Success" that we teach each day – Cooperation; Integrity; Respect; Education; Determination and Spirit."
About the Reds Community Fund:
Since its inception in 2001, the Reds Community Fund has used baseball as a vehicle to reach out to kids. As the nonprofit arm of baseball's first professional team, the Community Fund strives to create programming that connects underserved children with baseball, while creating fundraising programs that connect baseball with the community. Whether it's renovating baseball fields, providing opportunities to kids with disabilities, underwriting expenses for inner-city teams or hosting its "Reds Rookie Success League," the Reds Community Fund is dedicated to improving the lives of youth through baseball. On the web at: www.redsyouthbaseball.org