If you've driven around Greater Cincinnati this summer, you may be seeing new color in unexpected places. Teenage apprentice artists have been working side-by-side professional artists as part of ArtWorks Cincinnati summer program. Actually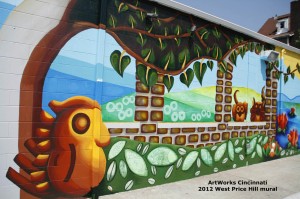 there are 115 teens who have created 15 beautiful, eye-catching murals to be exact.
Yes, these paintings are great masterpieces with vivid imagery that will enrich communities for years to come. But what is really special to me about this program is the opportunity it provides young, aspiring minds to blossom. It is so much more than just getting together to create art. Apprentices strengthen their communication skills and their confidence. They learn about teamwork and responsibility.
"A lot of them gain skills they never knew they had," ArtWorks Communication Specialist Marian Kelly told me.
The goal, Marian said, is to ultimately have an ArtWorks mural in every Cincinnati neighborhood…and they are up to 32.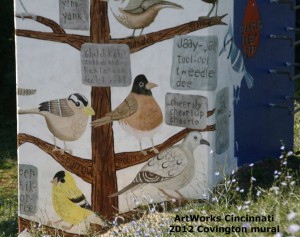 There is a lot of competition for becoming an ArtWorks apprentice. Each year the organization interviews more than 300 diverse youth between the ages of 14 and 21. Key criteria are a positive attitude, ability to work as part of a group, talent and time availability.