Today I want to introduce you to a couple I got to know through my work on the ReelAbilities Film Festival. Jenny McCloy co-chaired the 2017 ReelAbilities, and the more I get to know about her and her husband, Bill, the more impressed I become. Jenny and Bill were recently honored by the Community Foundation West Chester/Liberty with its Patricia F. Alderson Philanthropist of the Year Award. It is a befitting award for two people whose passion is making a difference for so many.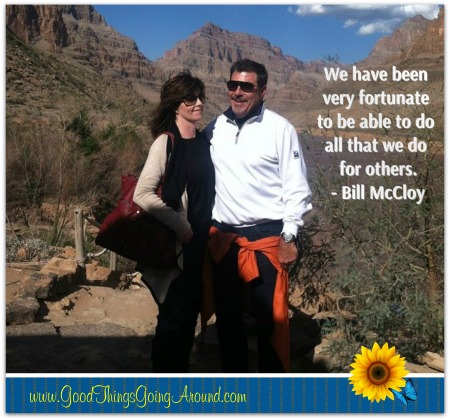 Quietly, without need or want of recognition they give generously with their time and their resources to causes close to their hearts. Jenny is president of the board of Melodic Connections, a Cincinnati nonprofit organization that brings out creative expression in people with disabilities. It is a place where their 22 year old son, Sam, who has Down syndrome and is mostly nonverbal has found a voice. Bill has been very involved with the Down Syndrome Association of Greater Cincinnati, having served on its Board and as chairman of its golf outing for many years, a role he continues. He is also vice president of the Board of the Ken Anderson Alliance, a nonprofit organization committed to building live, work, and play options for adults with disabilities.
The McCloys have four children. Sam is their second. "One of the things Sam does for us is that he brings to the forefront the importance of supporting those in need. We both have come from very humble beginnings and lived paycheck to paycheck until 1998. We have been very fortunate to be able to do all that we do for others," Bill told me.
When it comes to giving, Bill was very clear, they do what they do not for any kind of recognition, in fact, they would prefer to keep everything they do between themselves and the organizations and lives they touch. While they are very appreciative, accepting this award was not something that came easy for them or something they took lightly but they realized that their example may impact the decisions of others.
"We have never used the word philanthropist (to define themselves) but we knew we had a responsibility to give back and to influence our children and others. If our giving encourages one other person to give then it is worth putting our name out there," Bill said.
Bill's advice to others? "Give in any way, shape and form you can and it will come back many fold."