Thomas Courtney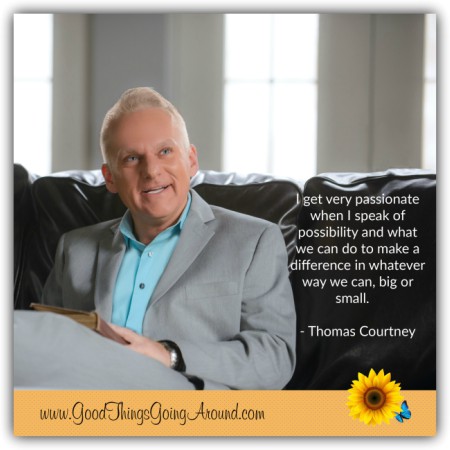 The other day, Thomas Courtney and I met for coffee and he shared a story with me that I thought everyone could benefit from hearing, so I asked him to write about it as a guest post, which is below.  Thomas has created and is in the process of bringing to the airwaves, It's a Good Life – a television show that informs, inspires and provides insight on living a better life.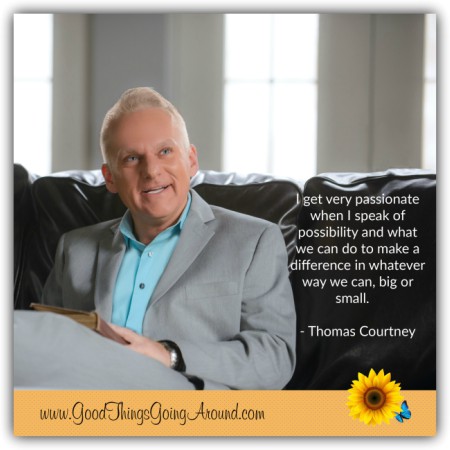 When we wake up in the morning we should say to ourselves, "Today, I am going to make this day, the best day, I have ever had in my life. "
A couple of years ago I was speaking at an education and computer technology conference to a group of  K12 through college software writers and developers about the power of making an impact in our communities and our world at large.  I shared about children who are living in poverty and homelessness; and about how the number one way we can have the greatest impact on life around us is by being the best version of who we are, right now, in this moment.  Not a version of anyone else.
In my conference speech, I told the story of how I would sit and talk with children in their classroom and listen to their stories of what they wanted to be when they grew up.  Many of those students were kids who had some behavioral issues stemming from their challenges of living a life that was much more difficult than what the average person was living.
I get very passionate when I speak of possibility and what we can do to make a difference in whatever way we can, big or small.   I am passionate because I believe in possibility.  And when I spoke to those children who believed they had no hope and no place to turn and no one to turn to and no way out, their eyes lit up like Christmas trees when I told them there is always a way out and a way up.
I said to the children, "In life, moments will come along when you think. 'I have no chance of getting over this hurdle'."   I told them, "You will think you believe that you do not have what it takes to be whatever it is that you want to be.  I am here to tell you that simply is not true.  You will be spending the rest of your life constructing your life.  Self-construction never stops.
"There will be times when you think you are stuck.  And you may likely be.  And there will be times when you will be afraid of the unknown.  And it is going to feel like you aren't capable of taking that next step.   And you will wonder if you are in charge, or is life in charge of you.    Most likely, it will be a little of both.   However, if you build a good value system, stick to it, and follow your heart this will give you a foundation to take leaps you may never think you can take.  And most importantly, be who you are.  Do not try to be anyone else.  And be the very best version of who you are."
When I finished my story, the audience was motionless. Eyes had blank stares and were frozen in time.  You could hear a pin drop.  Suddenly a hand went up. The woman had this to say, "I can appreciate how passionate you are and the work that you are doing with these children, but I am not in your line of work.  I get up every day and do the same thing over and over again, sitting at my computer typing.  I have very little to do with anyone else, little alone making a great impact.  I think I do my job well, but I wouldn't necessarily say I am making a difference."
I briefly paused, thinking about what was said before giving an answer. "Well, let's go back to what I said to the children about being the best version of you," I told her, asking how she begins her days.
"I get up after hitting the snooze three times, chuckle, fix my coffee, race to the shower, and may or may not have time for breakfast, and run to my car trying to hurry to make sure I'm not late.  Then I realize I am about out of gas and need to stop and fill up my gas tank on my way into the office.," she told me as the audience laughed. "And it really depends on how late I was out the night before," she added.
Then I asked her, "Tell me how you feel about your work?," and she explained, "I love my job.  I make a good living.  I am doing what I went to school for.  This is what I do."
I paused again for a moment, and then asked, "Do you believe the picture you just painted for me is the best you can be?  Do you believe you are being the best version of who you are based on what I explained to the children?"
She was quiet.
I went on, "I do not mean to sound like I have the answers for you and your life.  But hear me out for a moment.  What if you believed the work that you do, which is creating and building software for K12 through college level as having a serious and critical impact on not only the lives of the children and young adults you build this software for, but on the world?  What if you believed the decisions that you make every day in your life impacted the decisions and thought processes of every individual that your work project touches every day and even on different time zones?   Would that change how you see yourself and the work that you do every day?"
I could see her mental wheels turning.  I could see she was now thinking about a bigger picture.  Sometimes, what we all need is to get clarity on what is most important.  Sometimes we all need to see that in its simplest form we play a much bigger role in this hamster wheel of life than we would like to think.   Self-construction never stops.
We have 86,400 hours in a day to work until we retire, if we retire and depending on when you graduate from high school.  But just for conversation sake these are the hours we have.   This is time.  We should ask ourselves, "Who do we want to be and are we being our very best?  Is it the best version of who we are?"
Life is fleeting.  Time is invaluable.  And since we are so limited then I'd think we would want to spend it becoming the best of who we are, giving the best of which we are, not only for the world, but most importantly for ourselves.   The world is our stage.  We might as well choose to strive to live happy, develop and perfect our humanity, and celebrate being the best of who we are.  Today, I am going to make this day the best day I have ever had in my life.
Thomas Courtney
Reach Thomas by calling 513.616.0407  or emailing thomas@itsagoodlifeinc.com