Toast of the Town Toastmasters Club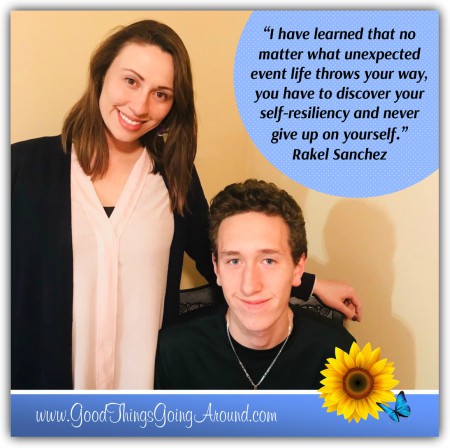 I have been involved with Toast of the Town Toastmasters Club in Kenwood for close to a year now. In addition to the incredible opportunity it has given me to practice and hone my speaking skills, it has opened a door through which I have built relationships with many uplifting and inspirational people.
Rakel Sanchez, health management director at Horan, is among them. Most definitely she is one of the reasons I look forward to my Tuesdays at Noon. She greets everyone with a smile. Whether or not she has known you for a year or an hour, she asks questions to learn more about you. She encourages you to participate. When she serves as an evaluator – a role I think is one of the most difficult of roles – she gives positive, constructive feedback in a way that makes people feel good about themselves and their abilities. As a fellow Board member, I have seen how she steps up to the plate with creative ideas and initiative to take on tasks for the betterment of our Club.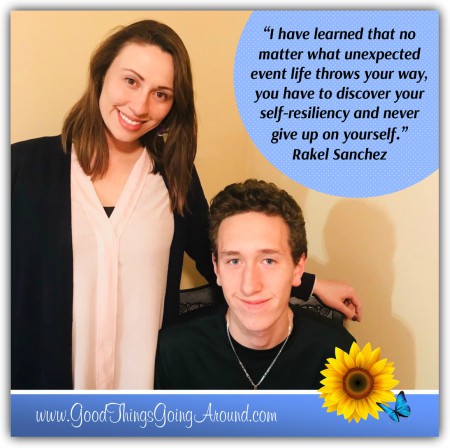 One day, Rakel shared with us a very personal story about her journey and life lessons from having been a teenage mother.  It touched all of us. It gave us yet one more reason to be proud to have her as one of our leaders. Since I didn't record it, I asked Rakel if she would write some of that story for my blog. Please read it below.
In her own words…
"A life challenge that I overcame was not allowing an event, that shaped my life forever, to derail me from achieving my dreams.
When I was 16 years old, I became a teenage mother. As one can imagine, this had a profound effect on my life and my future. However; I was determined to not allow my new identity of being a teenage mother define my legacy and close doors on my future. Instead, I allowed for it to become the catalyst in which I would strive to achieve my goals, not only for myself but for my young son.
As challenging as it was to redefine who I was as a young adult, I knew that without an education my life dreams would not be achieved. Ultimately, what I sought was to become an independent woman who could support myself and my child and provide the life I knew he deserved.
I graduated high school with honors and continued my studies at a local community college. Upon receiving my associate's degree I continued forward to a four year college and graduated two years later with a bachelor's degree in health education with honors. From there, I went on to pursue an advanced degree and graduated a few years later with my master's degree in public health.  It has been more than 16 years since then. My life was forever changed by the birth of my son but, because of my strength, determination, grit, family support, and faith in God I would not be where I am today.
I have learned through my life challenge, no matter what unexpected event life throws your way, you have to discover your self-resiliency and never give up on yourself. We all face trials and tribulations but the key to overcoming any obstacle is to have faith, do the work, make the sacrifices, and surround yourself with people who are going to uplift you–especially when you feel defeated. Know that it will not be an easy path but once you climb the mountain and get to the top, the view is AMAZING and it's in that moment you realize the gift was in the climb."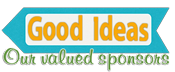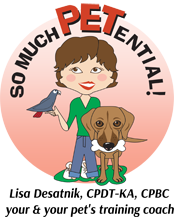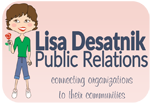 Before Labor Day, my Toast of the Town Toastmasters Club lost one of our dearest members. Several years after her first meeting, after having served as our Club's VP of Education (the most time intensive of our Board positions), inspiring and uplifting us with her humorous and thoughtful speeches, critiques, and leadership, she gave us her last farewell speech. Margo accepted a dream job for herself, working downtown for Macy's – which means our Kenwood lunch time meetings no longer fit into her schedule. Margo's speech was about transitions. As could be expected, it was insightful and powerful. Its messages are ones we all can learn from and live by. I recorded it and am sharing the transcript below.
Transitions by Margo Hess
One of the things that I have taken away from my 2 years at Centennial Inc. is that we are always in a time of transition. Think about that.
You are always either in transition or thinking about what is next. How many of you can say that where I am today is definitely where I will be next year – whether it be personally, professionally or whatever financial goals you have?
It is a big transition for me but it is a time of transition for everyone in this room.
About a year and a half year ago I came to my first Toastmasters meeting at the arm of Becky. She said you are going to go to this meeting and it is going to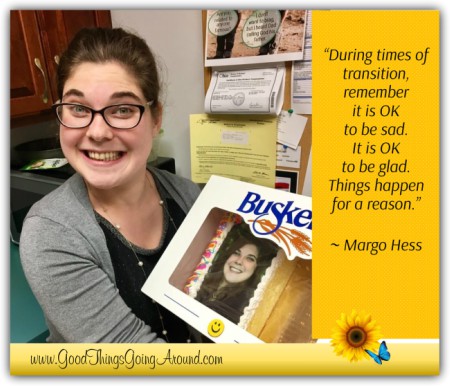 be good for you. And I sat in the back. She made me put my name in for table topics. I groaned. At the first meeting, guess what happens, I got picked.
Now here we are and it is my 10th speech. That in itself is transition.
Transitions can be bitter sweet. There is the excitement of something new, what is next, who am I going to meet, what am I going to do, what am I going to accomplish. But there is this sad part. The 'this is my last time I am going to do this or the other. Or the last time I will see this person on a regular basis. The last time I will pull into this parking spot. Even the last time I will likely be at this meeting.' Those are the sad parts.
Through it all, you have to remember that it is ok to be sad. And it is ok to be glad. Things change for a reason.
So it is during those times of transition when you need to focus on a few simple rules:
Think about what and who got you here. For me personally, there is a long list. My family, my grad school mentor, my college friends who kept a light even when I was unsure. We all need those people. But I think it is not enough to reflect on those people. I think you need to thank those people and let them know they inspired you. And let them know they mattered. And then take it a step further and see if you can inspire them back. Also think about where do you come from, what got you here.
This next opportunity is a passion for me. It is a mix of things. It is everything I have learned at Centennial. It is the start of me as a celebrity at the Old Navy through a weekend sales person at Bath and Body to a manager. The marriage of those things. It is the use of my masters degree.
It seems like it is one big jump but it is made up of a lot of little steps. Transition is just a big goal that is divided into chunks. It is the what and the where and the people that got you there.
I think that is the sad part .It is sad and happy at the same time because you are thinking about the people that matter to you and you are thinking about the sequence of events that got you there, all the random lunches with your work family, all the nights with your friends, and all the work in between.
And that is ok. You are supposed to think about that. Because it matters and you are supposed to feel thankful for that.
But there is the second part to that. It is ok to be sentimental. You should also be really excited. It is ok to move on and it is ok to move forward because it is not like you are just disappearing off the face of the earth. Especially in this day and age. You can communicate with anyone.
Just because you move on, that does not mean that you lose those people. Instead, it is time to connect with the new people whether it be bonding over cooking, couponing or alligators at the zoo, it is connecting.
You are keeping your old friends and making new friends. Connecting over common interests and realizing that the next step is here and you can do it. You have taken all these steps, all these people, these places and you are ready.
Be excited. Be sad. It's ok.
Finally, it is realizing it will not be your last transition. So be sad. Have your last lunch. Know there will be another last lunch and another first lunch. And then another last and another first. And enjoy all that because that is what is going to make you who you are. If you can take that and share that with others, then maybe transition won't always be so scary. Maybe transition is a good thing. Maybe it allows other people to step up to the plate and be there best.
I encourage all of you to think about your personal transitions, where you are today, and what got you there; and where you want to be tomorrow and what will get you there. Say thank you to those who helped you, help someone else, and just have fun and laugh a lot because life is too short not too.
And to Margo, I want to say thank YOU for pushing me to keep scheduling my speeches, for your encouraging words and smiles, for your laughter and your insight….for just being you! I, and all of us at Toast of the Town will miss you!