United Way of Greater Cincinnati 2012 campaign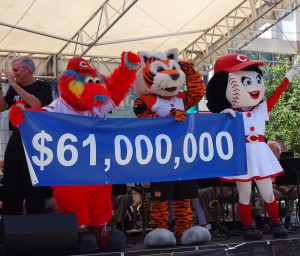 Today, the United Way of Greater Cincinnati and its individual and company supporters, kicked off an important workplace fund raising campaign – with a lofty goal of raising $61 million by its end, October 26. Cincinnati's Ft. Square was packed with volunteers who will be working to make that goal a reality.
"It's a stretch," campaign Chairman David Joyce, CEO of GE Aviation, told the Cincinnati Business Courier's Lucy May. "We're going to need everyone to really commit."
Reaching the goal will allow the United Way to fund so many nonprofits doing vital work to strengthen lives and communities. The United Way has 'Bold Goals' in education, income and health that by 2020, at least 45 percent of adults will have an associate's degree or higher; at least 85 percent of youth will graduate from high school prepared for life, college and career; and that at least 90 percent of the labor force will be gainfully employed. For more information on the goals, please click here.
The fundraising campaign is a partnership of United Way and the Cincinnati Area Chapter of the American Red Cross. The United Way of Greater Cincinnati region includes Hamilton, Clermont, Brown and Butler counties and the Middletown area in Ohio; Boone, Campbell, Grant and Kenton counties in Northern Kentucky; and Dearborn and Ohio counties in Indiana.