Last fall it was so wonderful to have been given the opportunity to learn about one of our region's truly great philanthropists – Roger Grein when I helped raise awareness of his contributions. Roger has given to local nonprofits with his resources and his heart. However, his greatest legacy is in the hearts of thousands of young people in whom he and his Magnified Giving team of staff and volunteers have instilled long lasting generosity.
Magnified Giving is a nonprofit organization whose mission it is to educate, inspire, and engage students in philanthropy. Its vision of Magnified Giving is for every high school student in America, starting with the Greater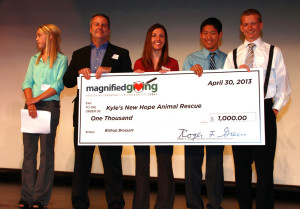 Cincinnati and Northern Kentucky area, to someday have the opportunity to learn first-hand how to be generous and wise philanthropists.
Each year, participating school groups are challenged to determine how they want to invest up to $2000 in a nonprofit. They research, evaluate nonprofit grant applications, fundraise to earn matching dollars – gaining leadership, communication, and teamwork skills as part of the process. This spring in a packed auditorium of over 600 students, teachers, nonprofits, donors, parents, and community leaders, nearly $50,000 was presented to causes doing great work.
"The most rewarding aspect of Magnified Giving is when what we do in the classroom reaches beyond the walls of the school in a tangible way. I see students 'get it' when they come back from a site visit," said Julie Vehorn, director of curriculum and instruction at Roger Bacon High School overseeing her school's Magnified Giving program.
Participating Schools
Aiken College & Career
Arlington Heights
Bethel-Tate
Bishop Brossart
Chaminade Julienne
Cincinnati Country Day
Cincinnati Hills Christian Academy
Covington Catholic
Dater
Elder
Holmes
Indian Hill
Kings
Loveland
McAuley
McNicholas
Miami Valley Christian Academy
Mother of Mercy
Mt. Notre Dame
Notre Dame Academy
Perry High School
Reading
Roger Bacon
St. Henry
St. Xavier
School for the Creative and Performing Arts
Seton
Shroder
Starfire University
Summit Country Day
Taylor
Ursuline Academy
Wyoming
Pilot Programs
Madeira Middle School
Northern KY Youth Advisory Board