Veteran's Day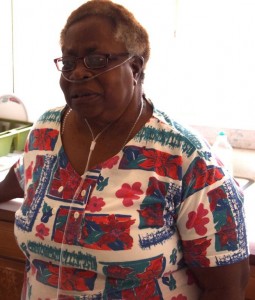 There are heroes all around us. Willa is one of them. At 80, she can look back at her life with great pride. In 1951, Willa was one of the few trailblazing African American women to enter the military and she valiantly served three tours of duty as a medic both stateside and abroad in the Women's Army Corps.
Passing by her house – the place that has been the center of her life since returning to civilian living – one would never know what greatness resided within. Today, like so many other military veterans, she has permanent health and mobility issues….and a home in need of repair.
People Working Cooperatively (PWC) and The Home Depot Foundation have joined forces to make an impact. Yesterday, after an announcement of a $155,000 donation by Home Depot to PWC, over 225 local store associates set off to repair and renovate the homes of 15 local veterans – including Willa – who wouldn't be able to afford those expenses on their own.
For The Home Depot Foundation, this is part of its second annual 'Celebration of Service Campaign' where employees across the country repair 100 homes.  For PWC, the Campaign marks a new attention focus on the needs of veterans.
"When I joined PWC as an employee, I looked at our waiting list for mobility modifications. There were 58 veterans on the list. I wanted to come up with funding to remove their names," said Ron Heinlein, a former Home Depot district manager who became PWC's director of corporate and community partnerships.
And, if you know Ron, the way I do, you know he can get it done. The $155,000 check from Home Depot will cover the renovation costs for those 58 names but the list just keeps growing.
So, with a huge kick-off planned, PWC will have a new 'Ramp It Up For Veterans Campaign' running September 11 through Veteran's Day (November 11), 2012. Donors will be able to text a number and contribute $10 toward PWC's important work.
If you would like to donate it advance, please visit the PWC website at this link.