Visionaries and Voices

Facebook has so dramatically altered the way we communicate, and sometimes meet.. It has introduced me to people I would never have come in contact with. It is a source of support, of sharing good news and bad, of laughing at each other's stories, of connecting, really connecting.
It was on that platform where the lives of Cheryl Beardslee and I first intersected. You can tell a lot about a person's character by his or her Facebook content. It is in the Home Feed where I have come to see Cheryl as an uplifting figure who sees the best in others and sees life through a glass half full. Often, her name is beside feedback to others giving praise, encouragement, or joy.
Now having met her several times at parties, I can say, she is just as warm in person. Cheryl is someone who finds great joy in her life. Conversation with her comes easily as she is both an interested listener and speaker. If you ask her about the people who matter to her, her tone brightens and she opens up to story upon story of their impact.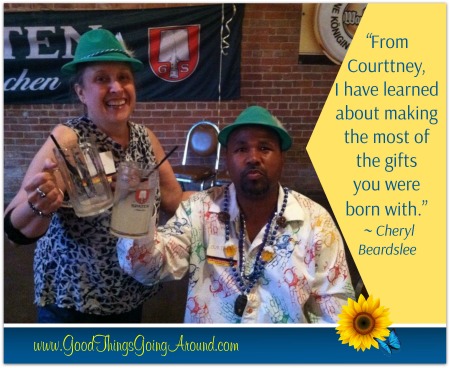 One of those people is Courttney Cooper, one of Visionaries and Voices top selling artists known for his vividly detailed maps of Cincinnati. The two came to know each other when Cheryl was a special education teacher. Now he is her Godson, and they see each other as often as possible. This picture was taken last month at his birthday party. "He is one of the hardest working students I had," she said. "From him, I learned about the importance of perseverance, hard work, kindness and making the most of the gifts you are born with," she told me.
Cheryl also credits her parents, both past army officers, for teaching her about good character.
Talk about not giving up. Her dad, Charles, was 17 when he decided he was going to run away from home to join the army. He donned his only suit, dress shoes and a tie and began his 30-mile journey, trekking through the night to arrive by 3:00 am. He took his shoes off (because they were his good shoes after all), put them behind his head, and laid down on the cement to wait. The recruiter showed up three hours later and wasted no time in signing up this young man who clearly had an undaunting determination that would be of value to the military.
Charles was soon commissioned by the President of the United States to become a Lieutenant Colonel before going after his next question. There was this beautiful woman who was an army nurse…and so of course, Charles suddenly became ill (or so he told people).
They eventually eloped to Jeffersonville, Indiana and were together the rest of their lives imparting their work ethic and values onto their children and others.
Later, they settled in Cincinnati where Cheryl's dad became the manager of the Regency (apartments) and the entire family lived in a unit and helped. Charles' staff were like family. "One man told us, 'the Colonel was like his dad,'" Cheryl said. "That is how people felt about him (her dad). He could inspire people.
"If he asked you to do something, if you would not jump up immediately, then he would say, 'I wouldn't pay you a million dollars for your help' until you would jump up. And then he would say, 'I only want your help if you will help me with a giving heart.'"
To Lt. Colonel Beardslee, I want to thank you for that legacy. Clearly that giving heart has been passed down to your daughter.