WarHorse
Thank you so much to everyone for participating!  I may be doing more give-a-ways in the future. I want to congratulate Mike Poweleit who won these two tickets. It's going to be a great show!
ENTER TO WIN TICKETS TO OPENING NIGHT OF
The National Theatre's epic WAR HORSE, winner of five 2011 Tony® Awards including Best Play, will be playing a strictly limited two week engagement in Cincinnati, March 26 – April 7, 2013 presented as part of the Fifth Third Bank Broadway in Cincinnati 12/13 Season.
 ENTER TO WIN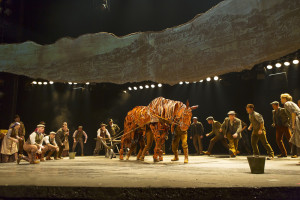 And I'm excited to announce I have TWO tickets to opening night to give away. Entering is simple. Here's how:
You must be a Facebook fan of Good Things Going Around or So Much PETential (or both – if you are a fan of both).  Click on the hyperlinks to visit each page.
Then, either add a comment to this post or message me with the answer to one of these questions:  Why do you think the arts are important in Greater Cincinnati?  or Why do you enjoy the arts in Greater Cincinnati?
**Note that your comment may be used in a future online post, and by submitting it, you are giving me permission to use your comment and name.
I will randomly draw a name on Sunday night, March 24, at 8 p.m. and will email the winner. Because of the closeness to the play, you will have until Monday morning, at 10 am, to reply or I will draw another name.
More about the show…
Michael Morpurgo's novel, War Horse, is also the inspiration for Steven Spielberg's feature film of the same name, which earned six Oscar nominations including Best Picture.
Hailed by The New York Times as "theatrical magic," WAR HORSE is the powerful story of young Albert's beloved horse, Joey, who has been enlisted to fight for the English in World War I. In a tale the New York Daily News calls "spellbinding, by turns epic and intimate," Joey is caught in enemy crossfire and ends up serving both sides of the war before landing in no man's land. Albert, not old enough to enlist, embarks on a treacherous mission to find his horse and bring him home. What follows is a remarkable tale of courage, loyalty and friendship, filled with stirring music and songs and told with the some of the most innovative stagecraft of our time.
The tour of WAR HORSE, based on the beloved novel by Michael Morpurgo and adapted by Nick Stafford, will be directed by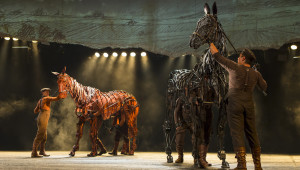 Bijan Sheibani based on the original Tony® Award-winning direction by Marianne Elliott and Tom Morris, and presented in association with Handspring Puppet Company. At the heart of the show are life-sized puppets which bring breathing, galloping, charging horses to thrilling life on stage.
In addition to Best Play, WAR HORSE received Tony® Awards for Best Direction of a Play (Marianne Elliott and Tom Morris), Best Scenic Design of a Play (Rae Smith), Best Lighting Design of a Play (Paule Constable), and Best Sound Design of a Play (Christopher Shutt). A Special Tony Award was given to Handspring Puppet Company for their integral work on the production.
WAR HORSE received its World Premiere in a limited engagement at the National's Olivier Theatre in 2007. The play returned to the National Theatre for a second run playing from in 2008-2009 before transferring to the West End's New London Theatre in Spring 2009 where it continues to play an open-ended run. WAR HORSEhas been seen by almost 2 million people worldwide.
The lead producers of the National Tour of WAR HORSE are Bob Boyett and the National Theatre of Great Britain.
Lincoln Center Theater and the National Theatre of Great Britain in association with Bob Boyett and War Horse LP, are the producers of the American premiere of WAR HORSE, which opened in Spring 2011 at the Vivian Beaumont Theater where it is currently playing an open-ended run.
WAR HORSE will play the Aronoff Center from March 26 – April 7, 2013: Tuesday- Friday at 8:00PM, Saturday at 2:00PM and 8:00PM, and Sunday at 1:00PM and 6:30PM. Tickets for WAR HORSE range from $28 – $83 and are subject to change based on demand. They are available at the Aronoff Center Box Office downtown at 650 Walnut Street, online at CincinnatiArts.org or by phone at 513.621.ARTS. For groups of 10 or more, contact the group sales department at 513.369.4363. Performance schedule, prices and cast are subject to change without notice. For more information, please visit www.BroadwayInCincinnati.com or www.warhorseonstage.com.