WatchWriteNow

You may have seen TT Stern-Enzi's film reviews on FOX 19 or in CityBeat. He also writes for the Dayton CityPaper. Several months ago, I had the pleasure of meeting him over coffee. He has such a kind soul about him and when he talks about his passions – films, kids, and family – he is an open book.
It is no wonder that in addition to writing about films, he has recently established a nonprofit organization called WatchWriteNow that combines it all. Through WatchWriteNow, TT uses film as a means for developing critical thinking and analysis skills in students, exposing them to creativity as well. He develops programs where participants have weekly exposure to him, then go home to watch and talk about movies and shows with their parents, siblings, and friends. Students also write commentary for TT's WatchWriteNow blog.
Let's learn more about TT.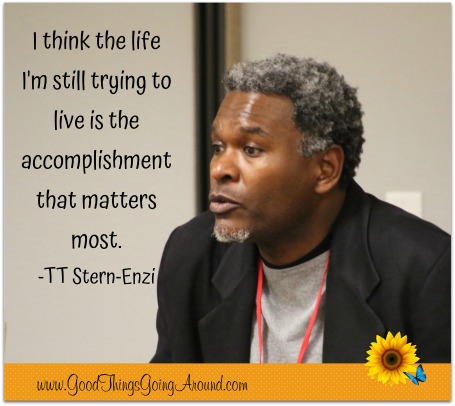 Lisa:  Tell us about your love for film, including where it began and how it has evolved. 
TT: My earliest memories of movies go back to my mother, before I even started going to see them. My mom loved music and would buy soundtracks (Shaft, Trouble Man, etc.) and I remember spending hours staring at the album covers. I wasn't old enough to see the movies, but I probably made up my own movies based on those LP sleeves. Then, when I started school and proved to be a dedicated student, my mom would take me to the movies after school, as a treat for a good report card. She took me to whatever I wanted to see (that was appropriate, of course), which meant a lot of fantasy stuff (swords and sorcery). I was into Dungeons & Dragons and I read stuff like Michael Moorcock, Fritz Lieber, and later Stephen Donaldson and Frank Herbert. Really, I would read anything, but sci-fi and fantasy opened the door for me and probably influenced my movie choices for a time, even though I quickly developed a rather eclectic range. I like to say now that I love good movies and good books, and that means there are no genre limitations. Great films can be found in any genre, you just have to be open to them. Sci-fi, drama, romance, foreign language, indie. The categories are meaningless. The same notion applies to music, books, theater, art, everything. You don't have to like everything, but when it comes to film, I want to try to see as much of it as I can while I'm able.
Lisa: What is one of your favorite films and why?
TT: Blue Velvet is my all-time favorite film. I saw it at least four times during its opening weekend in 1986 and then went to my AP English class that Monday morning and asked my teacher if we could talk about it. I needed to crack it open and that felt like the right place to do it, and fortunately my teacher – who is still at the school – let us. We spent about 30 minutes on it and I then went back to see it multiple times the next couple of weekends. I've seen it over 30 times on the big screen over the years and it still reveals little secrets to me each time. Last year, I was able to take my oldest daughter to see a special 30th anniversary print of it in NYC. She was the same age I was when I saw it back in 1986, and it was one of those memories I will cherish forever. We walked the streets afterward, talking about the film and David Lynch, Twin Peaks and everything.
I realize that having a teacher indulge my curiosity and passion like that, was probably what set me on this path, and I hope that through my non-profit, I might be able to do the same for a few of the kids I see in WatchWriteNow programs.
The funny thing about Blue Velvet though is that it is not, technically speaking, the best film I've ever seen. I'm not sure what that is or how I could ever determine something like that. I just know that Blue Velvet continues to be my favorite, likely because of that story behind my lifelong experience with it.
Lisa: What is one of your most memorable interviews and why?
TT: Thanks to CityBeat, I've had the opportunity to conduct a few hundred interviews over the years and there are lots of fun stories in those exchanges. A favorite though is my chat with Martin Landau. He was helping to promote his appearance in City of Ember (2008) and the promotional reps set up a day and time for us to catch up. There was a mixup and I had to leave the house before I received his call. I got back home and there was a direct message on my office voicemail from Mr. Landau. As a film geek, I was already nervous about interviewing him –  I mean, he's had such a career. The man worked with Alfred Hitchcock, and he's leaving a casual message on my voicemail. When we finally spoke to one another, I stumbled through my questions, trying not to geek out on him, and towards the end, I asked him about his process for finding his characters beyond what's on the page. In reply, he did this little exercise where he walked me through the five boroughs of New York, creating a set of characters and voices right then and there. It was so much more than an auditory experience. I felt like I was in the same room with him, watching him transform into these people. When he finished, I tried to compliment him (and really thank him for sharing that with me) and he just chuckled and said that's what he gets paid to do. It was brilliant, and I've got it save now in my iTunes library.
Lisa: When you look back at your life, what is one of your proudest accomplishments?
TT: It sounds weird to say this, but I think the life I'm still trying to live is the accomplishment that matters most. I haven't come close to any kind of perfect example of the things I've talked about here, but I'm always trying, striving to live it. I said at the start that I'm still that geeky kid. If I can keep that up and let others (especially the kids I work with) see the effort, then I would be proud and satisfied with that.