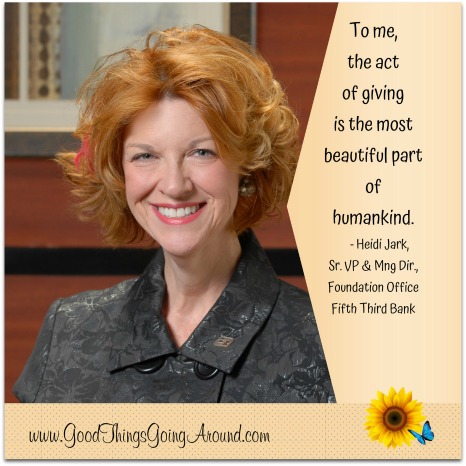 Heidi Jark, senior vice president and managing director of The Foundation Office at Fifth Third Bank, has long been someone I have admired.
A 2013 YWCA Career Women of Achievement Honoree, Heidi has learned some mammoth lessons about life and the strength of her will from her own personal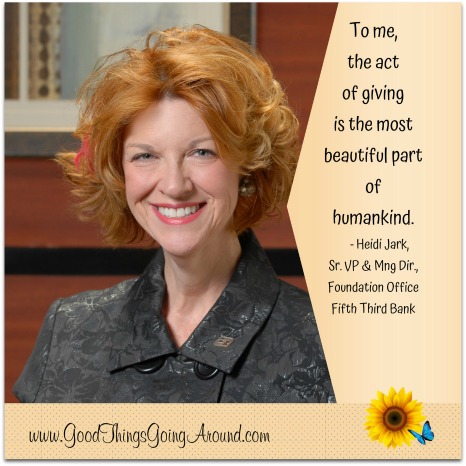 experiences. Growing up on a farm, and having been raised by loving, hard-working parents, gave her an early solid foundation. That, and a diagnosis of cancer at the young age of 19, gave Heidi a deep inner purpose and drive for building good and philanthropy. In her role at Fifth Third, she oversees investments from the bank's own foundation, more than 20 other trustee foundations, and private family foundations. She and her husband, Steve Kenat, are active in the community. Among Heidi's list of engagement, she  has served on the United Way Leadership Cabinet, and is a past board member of the YWCA of Greater Cincinnati.
Please learn more about Heidi below.
GTGA: You grew up on a farm in South Dakota. How did your early experiences help to shape who you are today?
Heidi: Growing up on a farm definitely had an impact on the person that I am today.  I didn't necessarily appreciate or know the true impact until I was older, but those experiences have imprinted on several things in my life.  First and foremost, it taught me the value of hard work and how work can bring great joy and be essential to your wellbeing.  My Dad was always "working", whether it was in the field, at his desk, or even doing carpentry in the winter months.  He's an amazingly happy person and takes great pride in his accomplishments, even today at the young age of 88.  His greatest words of wisdom to me were to find something that I loved to do with my life and I would never do a day of work. Dad was definitely right about that!  Secondly, working on the farm taught me the value of humor.  That seems like an odd thing to say, but there was plenty to laugh about when things were good and when things went the wrong way.  My parents had a great sense of humor and even work had its fun side. Whether it was gatherings via snowmobiles to the river bottom to ice skate and roast hot dogs on a moonlit winter's night (one of my favorite memories) or impromptu family get togethers with tons of homemade food, laughter was always present in our lives.  Farming wasn't all about work.  It was about community, spending quality time together, and having some of the best laughs I've ever had in my life.  We had fabulous adventures on and off of the farm and it's something I value and try to practice as much as I can.  Finally, it taught me to appreciate the earth and all of its beauty.  I still crave wide open spaces and look forward to those trips each year when I can get back to South Dakota, breathe the fresh air, and get my hands dirty.
GTGA: You were diagnosed with Hodgkin's lymphoma. What are some life lessons learned from your experience?
Heidi: I was diagnosed a month before my 20th birthday and it was a shocker.  You never want to hear the words, "you have cancer", no matter the age.  I was so fortunate to have made my way to Mayo Clinic in Rochester, Minnesota and to have parents who figured out a way for me to stay there for 4 months of treatment.  I spent a lot of that time on my own, as it was planting season and my parents needed to be back home on the farm. I learned to be fiercely independent and to take charge of my health.  I also learned to listen to my body and to let it rest when it needed a break. I also had time to think about who I was and who I wanted to be. I also learned that I can't let fear of the unknown get the best of me or keep me from moving forward. I came out of the experience stronger and wiser than my years.  I also made a list of the things I would do in my life if I got a second chance and it's something I still try to follow every day.  I didn't know it at the time, but it's great to get the midlife crisis out of the way much earlier than your friends.
GTGA: Who is someone who has impacted your life in a positive way and how?
Heidi: It's hard to pick just one person, so I'm going to have to go with the 2 most important women in my life: my Mom and my oldest sister Becky.  I was different from the other kids in our farming community, and my family recognized that at an early age.  They embraced my differences and always made sure that I had support so that I could be whoever I wanted to be.  My Mom was a school teacher and a very strong independent woman that you didn't mess with, and she was my crusader and #1 supporter.  Her words of wisdom live with me every day and I miss her terribly.  We talked every day until her health deteriorated and she was unable to have a conversation with me.  She's in heaven looking over me now and I hear her voice in my head at least once every day. Becky is definitely like Mom and the two of us bear a striking resemblance to Mom in our looks, mannerisms, language, and even in our style of dress.  She's been my best friend and confidant for as long as I can remember.  Becky lives out West and we only see each other a few times a year, but we talk on the telephone constantly.  I know who to call if I need to laugh or cry.
GTGA: What are some of your simple pleasures in life?
Heidi: Reading, gardening, singing and playing the piano bring me great joy. I also love to cook and bake – that's the farm girl in me coming out!
GTGA: When you think about the word 'philanthropy', what does that mean to you?
Heidi: Generosity always comes to mind when I think about philanthropy.  The act of giving to me is the most beautiful part of humankind.  When someone gives of their time or treasures, it's truly a gift of heart and spirit.  A farming community is one of the best places to learn the meaning of giving and how to care for each other.  Little did I know that growing up on the farm would lead me to "work" that I love.
GTGA: What advice do you have to young people about living life?
Heidi: My advice is to live life to the fullest and to never have regrets. As a cancer survivor, every day is a good day because I'm alive. Even on the worst days, they are still better than the alternative. Dream big and surround yourself with positive people who can support you in the good times and the bad.  Most of all, you need to believe in and take care of yourself.  And, as my mother always reminded me, "If you're going to kick some butt, make sure you wear some awesome shoes!"