Liberty Mutual Volunteers Lend A Hand At Cancer Support Community
I just wrapped a contest for World Choir Games tickets where people wrote to me about what in Cincinnati makes their hearts 'sing'. There are so many good things in our region and it was really fun hearing what people had to say. I may have to ask that question more often.
I wanted to share what Amanda Baker of the Cancer Support Community of Greater Cincinnati and Northern Kentucky shared in her submission…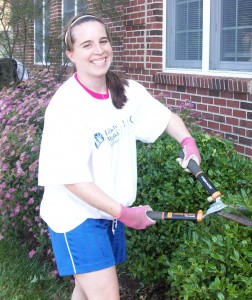 Liberty Mutual celebrated their 100 Year Anniversary with "Serve With Liberty" – a 2-day global service project that took place on June 21 and 22. Cancer Support Community was grateful to be one of the local sites selected by the Fairfield Liberty Mutual office for volunteer projects at CSC's Lynn Stern Center in Blue Ash. Congratulations on 100 years and thank you, Liberty Mutual!
Despite the heat, a group of 20 Liberty Mutual associates worked outside for nearly 5 hours on June 21 and made an AMAZING impact on the landscaping and grounds at The Lynn Stern Center. Flowers were planted, shrubs trimmed, beds weeded and cleaned out, windows washed, the hillside by the dumpster cleared and seeded, and more.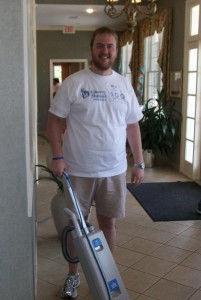 Then on June 22 another 15 member Liberty Mutual volunteer group came to clean the inside of our facility. They cleaned the office spaces as well as the participant areas, dusted every surface, organized our books and kitchen, washed all of the inside windows and cleaned the blinds.
We couldn't be happier with all the help we received from the Liberty Mutual volunteers over the 2-day service project. The Lynn Stern Center looks wonderful and we hope their volunteers will come back next year to celebrate 101 years!
Now that's a great reason to sing!