At 16, Annie Raises Money For Heartworm Prevention & Treatment
The generosity and dedication of young people always inspires me. I received an email the other day from Annie Blumenfeld, a 16 year old from Connecticut, who very obviously has a huge heart for dogs.
It was after watching as her beloved rescue dog, Teddy, had to remain inactive in his crate for several months and endure many vaccinations and x-rays, that Annie did some research and took it upon herself to fight her furry friend's enemy –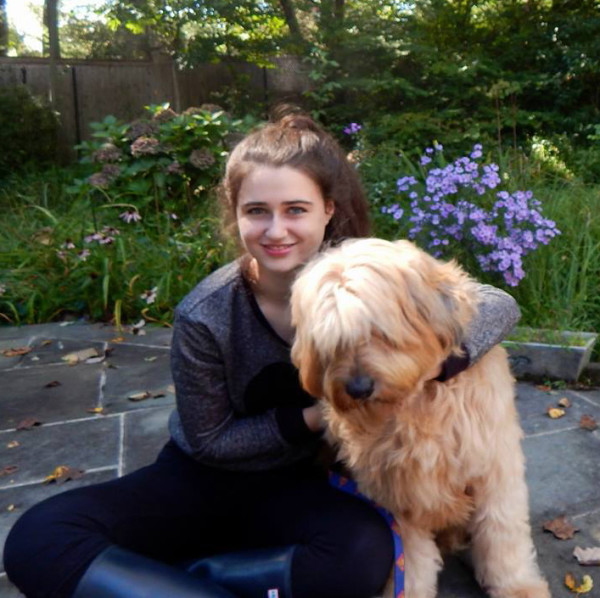 heartworm disease – head on.
"It broke my heart to see that Teddy could not understand why he was in his situation and that he could not play with any of his friends," Annie told me. "It was such a painful, expensive and long process that could have been easily avoided with a monthly preventive.
"I discovered more than one million dogs in the United States currently have heartwork disease and 45% are unprotected."
And with that, Annie founded her own nonprofit called Wags 4 Hope to raise money for the medical needs of animal shelters and raise awareness about heartworm.
The young philanthropist designed her own website and personally did all the legwork involved in gaining 501C-3 status. She writes her own blogs and a monthly pet column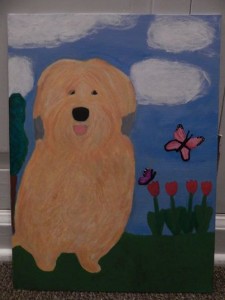 on pet responsibility. At her school, she established a Wags 4 Hope that currently has 40 members who hold fundraising events and collections. And she has painted and sold 300 original dog portraits with 100% of her profits going to animal shelters. Annie just finished a very personal painting of her dog, Teddy, for the new children's cancer wing of the Mayo Clinic in Minnesota.
"I hope Teddy brings the children lots of hope and laughter," she told me.
No doubt, Teddy and Annie already have.
If you would like to learn more about Annie's cause, and even purchase one of her paintings, please visit http://www.wags4hope.org.
About heartworm from Annie's site:
Heartworm disease is caused by a parasitic worm, Dirofilaria immitis, from mosquitoes. These worms are spread through the bite of a mosquito and produce offspring while living inside the dog. The worms are called "heart worms" because they live in the heart, lungs, and other blood vessels of an infected animal. In the United States, heartworm disease is most common in the South because of the extreme heat in which the mosquitoes thrive in, but they are present and highly populated in all 50 states. Heartworm disease is also present throughout Europe, Australia, Canada, and Africa. Heartworm disease cannot be spread from one dog to another it is only spread by the bite of a mosquito.
Since, heartworm disease treatment is very expensive, and there is a chance that your pet may not survive the treatment, preventatives are a great solution. There are many safe FDA approved products that can be used. All of these products require a veterinarian's prescription. These preventatives are used monthly and are simple. There is a vast range of different products from liquids, to tablets. The use of preventatives depend on your location and your dog. Some veterinarians use their own holistic remedies. Please talk to your veterinarian about the best way to protect your pet.