Cincinnati Rotary Club Inspires With Jefferson Award
Attending an awards event is truly an inspirational experience. And the Cincinnati Rotary Club's 2014 Jefferson Award luncheon was no exception. The Awards program honors 'ordinary people doing extraordinary things,' although the truth is I wouldn't classify any of those whose names were recognized as 'ordinary'.
They are amazing people who have a passion and a drive to get things done. They have a genuine heart for others. They are leaders. And they are people whose voices cause people to take notice.
While one person was awarded the Jefferson Award, the finalists are absolutely deserving of recognition too. So I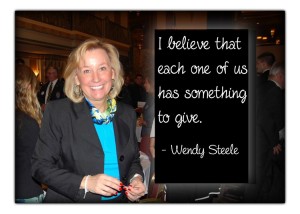 wanted to include the videos of each of them and I encourage you, if you want to be inspired, to listen to each one.
Congratulations to Wendy Steele, 2014 Jefferson Award Recipient!
The year was 2001 when Wendy Steele, a former bank vice president and stay-at-home mother to three, had an idea. And out of that idea sprouted an organization and a movement that has infused millions of dollars into the hands of dedicated individuals and teams making a difference in their communities.
Impact 100 is Wendy's brainchild. It is a nonprofit that has given out more than $2,500,000 to 22 different nonprofits in the Greater Cincinnati/Northern Kentucky area since its inception. Its concept is simple and powerful. Impact 100 members each donate $1000 and annually pool their resources; research nonprofit applicants; vote for the organization that could have the largest IMPACT; award a grant (of at least $100,000); and follow-up to hold the agency accountable.
By 2013, the local Impact 100 had grown to include over 300 members, some of whom now split the $1,000 membership fee and a single member's vote.
And the giving doesn't stop there. Today Impact 100 is in 18 communities across the United States and several communities in Australia. Nationally, over 5000 women have contributed more than $25 million to charities.

(video credit: Local12 Creative Services Dept)
Dr. Ira Abrahamson, founder of the Abrahamson Pediatric Eye Institute in 1996 with a mission of wiping out preventable blindness in children by developing a vision screening program. His program has expanded to 29 elementary schools and several community centers throughout Greater Cincinnati.
(video credit: Local12 Creative Services dept)
Brooke and Keith Desserich founded The Cure Starts Now Foundation in 2007 in honor of their daughter Elena, who lost her battle to cancer at the young age of 6. Today The Cure Starts Now has surpassed $2 million in research funded at some of the top prestigious research facilities around the globe, including our Cincinnati Children's Hospital Medical Center.
(video credit: Local12 Creative Services Dept)
Created in 1972 by then-Cincinnati resident U.S. Sen. Robert Taft and Jacqueline Kennedy Onassis, the Jefferson Award is presented annually to recipients in more than 90 U.S. cities. It's organized by the Institute of Public Service and supported locally by the Rotary Club of Cincinnati, one of the area's oldest business organizations with 300 members. This year's Jefferson Award winner will go to a gathering of all U.S. honorees in June. Over the years, numerous Cincinnati winners have been recognized there with national honors for public service.