Cincinnati Volunteer Pete Bushelman Impacts Thousands Through CISE
There are people in this world who generously give of themselves without any want for return. They quietly contribute in ways that touch others in very meaningful ways.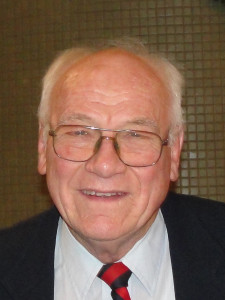 Pete Bushelman is one of those people. Over the past 33 years, he has impacted the lives of thousands of children through is involved with Cincinnati Catholic Inner-City Schools Education Fund (CISE).Single-handedly, he has raised over $2.5 million to give kids from Cincinnati's urban neighborhoods an excellent education at a CISE school.
Pete has been a member of the CISE Advisory Board since it was formed in 1980 by then Archbishop Joseph Bernardin.
According to Sharon Civitellos, CISE communications coordinator, "Pete is not a figurehead chairperson.  On the contrary, he acts as a committee of one and does everything from calling on his raffle 'customers' to writing and mailing out thank you cards."
The first fundraiser undertaken by the CISE Advisory Board was the "Friends of CISE" Raffle.  Pete agreed to chair the first Raffle more than 30 years ago and has served in this role ever since.
From late August each year until the day of the Friends of CISE Raffle drawing in December, Pete is on the phone with 800 of his close friends and associates encouraging them to purchase their raffle tickets.  Pete's persistence pays off with more than $120,000 being raised annually for CISE through this one event.  Collectively, that amounts to over 1200 raffle tickets sold valued at over $2.5 million!
At over 80 years of age, Pete continues to give his all to making the Friends of CISE Raffle a success.  He amazes his colleagues on the CISE Advisory Board with his tenacity and drive to raise funds for the education of children from Cincinnati's urban neighborhoods.  Without Pete's determined efforts, the future may have been quite different for the young people who received a solid academic and spiritual foundation at the Catholic inner-city schools during the past 33 years and have gone on to college and careers.
Pete's volunteer work is not limited to CISE. He has dedicated his life to helping others. Any day of the week you might find Pete delivering food to the homeless or a local food pantry, raising funds for one of his other favorite charities, or helping his invalid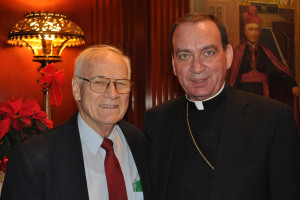 next-door neighbor who has been able to remain in her home thanks to Pete's care.
Over his lifetime Pete has actively served on over a dozen non-profit boards and continues to look for ways to help those in need.
And Greater Cincinnati is better for all of us because of people like him.
About CISE:
The schools supported by CISE are St. Boniface in Northside, Corryville Catholic, St. Francis Seraph in Over-the-Rhine, St. Francis de Sales in East Walnut Hills, Holy Family in Price Hill, St. Joseph in the West End, St. Lawrence in Price Hill and Resurrection in Price Hill.
To learn more about CISE and how you can help, please visit www.CISEfund.org.
I want to thank Sharon Civitellos for supplying information for this post.