Hundreds Of Volunteers Packed Nearly 86,000 Meals For Kids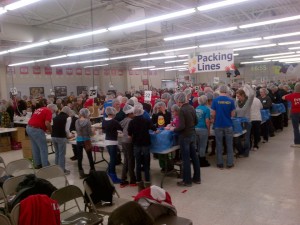 What a wonderful sight. Over 300 volunteers gathered last weekend at nonprofit Kids Against Hunger of Cincinnati just as they do many Saturdays to pack nearly 86,000 meals for hungry and starving children in our Greater Cincinnati region and abroad.
Over 30,000 children die every day around the world from preventable causes. They die from hunger, dirty water and the lack of basic medical care. Over 10 million children each year – every year.
Kids Against Hunger food packets are a specially formulated rice-soy casserole that nourishes starving children and their families in nearly 40 countries. The simple ready to eat meals have been developed by some of the world's leading food scientists at Cargill, Pillsbury, General Mills and ADM. Just one package provides six nutritionally-complete servings to feed starving children around the world as well as the hungry here at home, and all for the low cost of 25 cents per serving.
Volunteers and monetary donations are always welcome.  Please visit their website at this link to learn more.