Joey Votto Foundation Volunteers Spruce Up Learning Center
When you stop and think about how vital our children are to the future of our community, and how important it is that they have the tools they need to succeed – from an early age, you come to really appreciate the dedicated work of those who devote not just their careers, but their hearts too, to ensure  new generations a starting point from which to grow.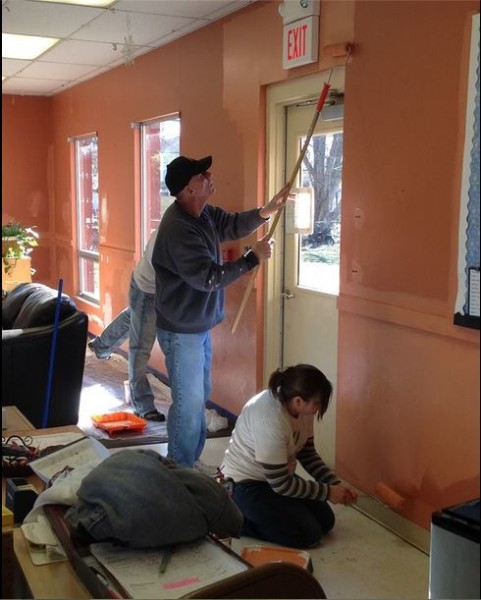 Cincinnati Early Learning Centers, Inc. (CELC) is a nationally accredited, non-profit, United Way agency managing six childcare centers throughout Greater Cincinnati, each providing quality child care for children ages three months through eleven years. CELC sites include: Harrison (location of original site – 1980), East Walnut Hills (1983), East End (1995), Downtown/YWCA (2006), Clifton/Future Environments (2010) and The Robert and Adele Schiff Early Learning Center located in Oyler School, Lower Price Hill (2012).
More than 80 kids, ages 18 months to 12 years, attend its Harrison CELC center. With full-day educational programs for the toddlers and pre-schoolers and an after-school program for the older students, it understandably was in need of a fresh face lift.
Enter the Votto Foundation
Cincinnati Reds first baseman Joey Votto created The Joey Votto Foundation to support the healing of service members, veterans and military families affected by Post-Traumatic Stress Disorder. Each month the Foundation invites families to participate in a community volunteer project, providing opportunities for veterans and military families to socialize, network, and connect with each other. Its February project was to help the staff and children at the Harrison CELC enjoy a refreshed-looking center.
The experience gave Votto Foundation volunteers an opportunity to get involved with a project that brought out their inner humanity and fostered camaraderie, and the staff and kids of CELC were given a beautified environment in which to learn.
I'd say that's a home run effort!