Kindness Matters
Written by Good Things Going Around intern, Indian Hill High School student Andrea Francisco
When I give back, it makes me realize how even the smallest acts of kindness can make a difference. Even just a smile or simply telling someone to "Have an awesome day" can cause such a positive effect on the world. One of the best things about giving back, such volunteering as a Vacation Bible School Guide, is that you get to meet so many people that would otherwise be strangers to you. Just having a positive conversation with someone you don't know very well can uplift both people and turn their days around.
I believe that giving back is truly a chain reaction, like in Rachel's Challenge, whose representatives came to our school a few years ago. Rachel, who was sadly killed in the Columbine School shootings of 1999, inspired the world with her acts of kindness and belief in the "chain reaction". Rachel wrote before she died, "I have this theory that if one person can go out of their way to show compassion, then it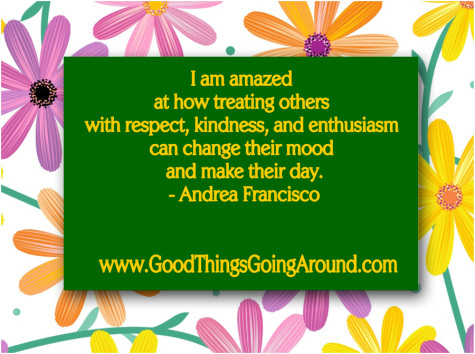 will start a chain reaction of the same. People will never know how far a little kindness can go". In my life, I sometimes struggle with this concept, conversely thinking that I must do something big in order for it to have any lasting effect. However, Rachel reminds me that this is not true, because even a small act of kindness will make a huge difference, as this act may inspire countless of other acts of kindness.
When I really put my full heart into volunteering and helping others, I realize how easy it is for me to positively influence others and give them confidence. It warms my heart when I see the little kids in my Vacation Bible School group following my lead by having fun dancing during worship time and playing the fun games. They really look up to you as someone to trust and respect — even if I am just an ordinary person. When giving back, I am amazed at how treating others with respect, kindness, and enthusiasm can change their mood and make their day.