Nonprofit 'Girls On The Run Of Cincinnati' Builds Strengths
Just think about it as Can University – a place where girls learn that they CAN. No limits. No constraints. Only opportunities to be remarkable.
And for 10 years, more than 10,000 local girls have grown physically; in confidence; character values; teambuilding and life skills through this great learning think tank.
Also known as Girls on the Run of Cincinnati, it is part of an international non-profit organization dedicated to enhancing the lives of young girls in grades 3 to 8. Its 12-week programs (one in the fall and one in the spring) combine exercise with positive education and encouraging role models. Meeting at various locations twice a week, each 75 minute lesson incorporates running and walking games, as well as teaching participants about healthy eating, leadership, setting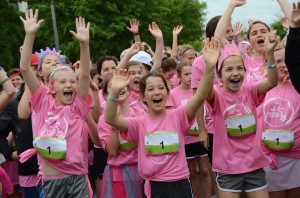 goals, cooperation and other age-appropriate topics. The culmination has the girls participating for their very own 5K run/walk.
Megan Folkerth is making a difference.
This fall will be the 11th race in which she has volunteered for the organization. Since 2009 she has served on the Race Committee, coordinated the running buddies and been one (an adult matched with one of the girls to run together in the 5K), and a SoleMate fundraiser.
A long distance runner herself having completed 15 marathons, five ultra marathons, various other races and in training now for a 100 mile trail race, Megan understands the value in reaching within yourself. "It is a huge sense of accomplishment when you push yourself to attaining a new goal," she told me.
Why is Girls on the Run important to her? "I think about the struggles you go through as a young girl and how awesome a program like this would have been for me years ago. We are helping these participants to grow up and be successful and lead a healthy life.
"My greatest satisfaction though comes from watching them cross the finish line and finish something they did not think they could do 12 weeks ago, and knowing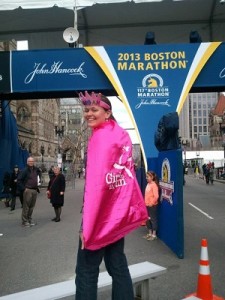 my efforts contributed to that success. It just makes you feel great."
It is an afterschool program – girls meet twice a week at their site with a head coach and assistant coach. There is a lesson and a running component. Lessons vary from body image to self esteem to anti-bullying. Different element of curriculum each time and big celebration is 5K.
Megan has helped organize a bone marrow drive with the Flying Pig Marathon. She coaches in a running group and done some volunteer work with MS.
She has been running – first half marathon in 2007. She has done 15 marathon, various halfs and others, 5 ultra marathon (50K or over and usually trail races). Why does she run? She works in the health field and this is a huge component to leading an active life. Sense of accomplishment to push self to attain a new goal.
How can you help?
Girls on the Run relies on volunteers to work directly with its girls and coach its programs. In addition to coaching, there are several other volunteer opportunities including: race day event volunteers, office support volunteers, SoleMates participants, committee members and various other projects. There are also group volunteer opportunities for corporations or organizations.
SoleMates are adult runners who pledge to raise money for Girls on the Run while training for their own races. With the program costing about $160 per girl, these fund raisers have an important role in ensuring everyone who wants to participate will have that opportunity.