People Working Cooperatively Helping People With Disabilities
Each year through People Working Cooperatively, thousands of volunteers working in tandem with professionally trained staff reach out to homeowners without the financial means to maintain their home, and thus, maintain their independence. The organization strengthens communities by providing professional, critical home repairs, weatherization, modification and other repair services that residents would not be able to afford on their own. PWC's Modifications for Mobility Program specifically offers costly accessibility adaptations to homes for people with disabilities.
 Two friends, A Common Bond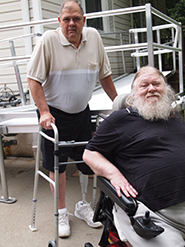 PWC volunteer Steve Crow's battle with cancer resulted in a prosthetic leg and a calling to help his fellow neighbors. That calling was put into action when Steve met a man with whom he shared a common bond. David lost his leg to diabetes two years ago. Using a wheelchair in a house that wasn't built for someone with a mobility disability prohibited David from being able to come and go easily.
Steve volunteered with the Kentucky United Methodist Church to build a ramp for David.
 "I was so depressed, just so upset. I couldn't go anywhere," David told PWC. "It has literally been two years since I went outside the house. You can't imagine what it is like."
The ramp gave David a new lease on life. "Just to go outside again and smell the fresh air and hear the birds. It's indescribable," he said.
But the ramp was not David's only gift. The other gift was a new found friendship with someone who understands that life can change in a moment's notice.
You Can Help
When I worked with the Inclusion Network, we used to say…"Disability is the one minority population that any of us can find ourselves in, without any notice." Accessibility modifications, while a necessity for someone with a disability to maintain his/her independence and quality of life, are very expensive. This makes it difficult for PWC to help everyone who needs and can benefit from the service. PWC currently has 125 people on a waiting list.
Proceeds from its upcoming Oscar Night® America Party will benefit PWC's Modifications for Mobility Program. It will be Sunday, February 26 beginning at 5:30 p.m. at the Hilton Cincinnati Netherland. Cost is $150 per person. If you can't attend, you can still bid in their online auction at www.biddingforgood.com/PWCoscars. For more, please visit their website or call Chris Owens, 513-351-7921.