Cincinnati Area Students Learned About Homelessness
Homelessness. It's hard to imagine. Sitting in my comfortable living room thinking about time treasured with loved ones, I realize how easy it is for us to take what we have for granted. But, in one stroke of bad luck, one moment in time, I know life can change. People can change.
No one empathized with those down on their luck more than an Over-the-Rhine icon, Buddy Gray, whose guiding spirit was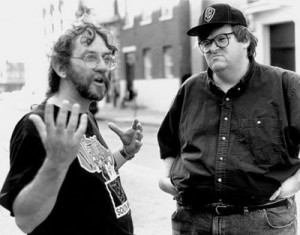 again memorialized several weeks ago at the 15 year anniversary of his death.
Buddy opened the Drop Inn Center – now Cincinnati's largest homeless shelter filled to its 222 bed capacity most nights. It was in 1973 when his idea came to fruition as an  evening-only shelter for the homeless located in a series of storefronts in Over-the-Rhine.  On January 13, 1978, the volunteer forces of the Drop Inn Center made the famous "People's Move" to the former Teamsters Hall at 217 W. 12th Street where the shelter remains today. Buddy also founded the Homeless Coalition in 1984.
"On the street, he knew everyone's name, and they knew him," Tom Dutton, a Miami University architecture professor and director of the university's Center for Community Engagement in Over-the-Rhine, told the Cincinnati Enquirer. "He was deeply loved. He was in people's homes. One of the stories is how he used to fix people's space heaters. He saw people as they were and didn't judge them. It seems simplistic but is very powerful."
A Simple And Powerful Lesson Lives On
Schools across the Greater Cincinnati are teaching their students to see the world as Buddy saw it, to understand the hardships faced by thousands, and to help with giving hands.
October was Homeless Awareness Month. Faces Without Places, the Greater Cincinnati Coalition for the Homeless, and the Manuel D. & Rhoda Mayerson Foundation collaborated to identify about 30 schools, create an idea sharing kickoff, and provide support for a citywide Shantytown.
Shantytowns are simulations providing creative way to sensitize students to the issues of homelessness, difficulty in accessing affordable housing, jobs, and food.  This year, students' minds and hearts were opened when they heard the story of struggle and resilience from a Homeless Coalition Speaker's bureau member – someone who has experienced homelessness.  Inevitably, stereotypes of people experiencing homelessness were challenged and changed.
At Aiken High School, for example, where their theme for the year is 'Here, There and Everywhere,' Karen Barrett told me, "we wanted to make sure the students understood that to be involved in service, you don't have to go overseas or out of state or even the school building."
Beginning their Shantytown evening, participating students fed the school football team and cheerleaders and then cheered them off to the game. They made posters to advertise a canned food drive for Thanksgiving baskets and put them up throughout the school.
Then the students met peers from Shroder High School at a local grocery store where they were each given $1.00 to spend on snacks for the night and breakfast the next morning.  "We explained that the $1.00 is just about the amount that a person on food stamps is given for each meal," said Karen.
That night, eyes were open when an Aiken graduate shared her story of homelessness while attending classes the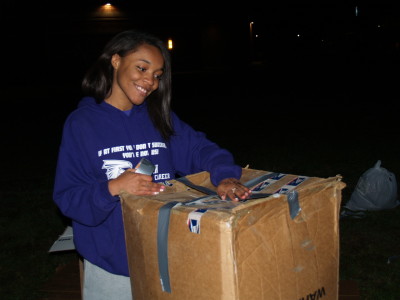 re. Students saw the movie 'The Soloist' and talked about attitudes toward people on the streets before heading outside to sleep in the boxes they set up as makeshift housing. The temperatures that evening got down in the 30's and many of the students came back in the building in the wee hours of the morning – an option they came to realize that was not available to those without homes.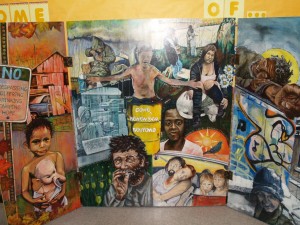 For our Canned Food Drive, I went over to the Villa Madonna campus and picked up the mural that was made as a memorial for Buddy Gray.  After studying it, one of my more artistic students commented, "I feel like I can see into the souls of those figures through their eyes".
Shantytown served its purpose.
(Buddy Gray photo credit:  Street Vibes)