Cincinnati Has A New YMCA Youth City Council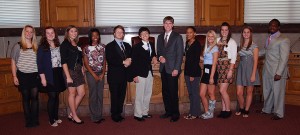 Following campaign speeches to about 200 Cincinnati area high school students, the 2011-2012 YMCA Youth Cincinnati City Council has been officially sworn into office and was publically introduced before Cincinnati City Council on October 5, 2011.
The elections were the culmination of an annual two-day YMCA Youth in City Government conference aimed at engaging young people in having a voice within their communities, and strengthening leadership and communication skills.
The year-round YMCA Youth in City Government program gives Cincinnati students the opportunity to learn about local, state, national and international politics. It offers teen participants a venue to gain leadership skills, strengthen their ability to express ideas clearly and persuasively, and learn fellowship by working together with peers from diverse backgrounds.
The YMCA of Greater Cincinnati is one of the area's largest nonprofits focused on engaging individuals and families in youth development, healthy living and social responsibility. This year more than 125,000 people will come to the YMCA to learn, grow and thrive. Adult role models nurture positive values and life lessons in children through sports, summer camps, structured child and afterschool care, and leadership building programs. Branches offer quality time for families to be together, resources for parents, and a variety of opportunities for seniors to be active.  The YMCA ensures these opportunities are available to everyone no matter their ability to pay with generous support from community partners and donors.
Photo:
left to right: Virginia Hollatz (Mt. Notre Dame H.S.); Jane Eby (Mother of Mercy H.S.); Jordan Stevens (Mother of Mercy H.S.); Benita Munnerlyn (Cincinnati Hills Christian Academy); Joseph Trentman (School for Creative and Performing Arts); Kyle Denman (St. Xavier H.S.); Nick Staresinic (Moeller H.S.); Kyla Norton (School for Creative and Performing Arts); Sami Spanagel (Mt. Notre Dame H.S.); Stephanie Cline (Mother of Mercy H.S.); and David Frost (Altersgate Christian Academy)