Haley & Caroline Have Juvenile Diabetes & They Want Their Lawmakers To Know
Haley Palmore of West Chester (Ohio), 16, and Caroline Cain of Covington (Kentucky), 13, just came back from Washington D.C. where they had a once in a lifetime opportunity to educate lawmakers about a disease that has had a profound impact on their life – type 1 diabetes. It was all part of the Juvenile Diabetes Research Foundation's (JDRF) Children's Congress 2011 where 150 young people nationwide gathered to do their part to affect funding for type 1 diabetes research.
That was a big charge for these girls but they were excited about the challenge and proud of their accomplishment. It was definitely a journey of personal value.
 "I was really proud of myself for speaking up. I've never done public speaking before but I knew what I was going to say," said Haley.  "For me, it was very important to be there. Every year my family raises a lot of money. We all want a cure and we're all in this together."
Both Haley and Caroline have learned important lessons in responsibility from their having to manage a disease that requires them to check their blood sugar 10 to 12 times daily…but they do not let diabetes define them.
Diagnosed at age 5, Haley has lived with an insulin pump since age 7. She is a student at Cincinnati Hills Christian Academy and she swims year round for the Mason Manta Rays. She is the daughter of Mark and Carla Palmore, and has a younger brother.
Caroline was diagnosed at age 4 and has lived with an insulin pump since age 6. She is a student at Covington Latin and active in soccer, tennis and other school activities. She is the daughter of Carla and John Cain and has three sisters.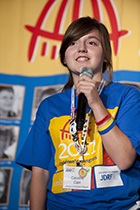 "I wanted to go to Washington because I wanted to make a difference," said Caroline. "Funding is needed and I wanted to help get the FDA to approve home trials of the artificial pancreas. I think we definitely made people more aware of the issues with diabetes."
(Pictured on left: Haley Palmore; on right: Carolyn Cain)