Meet Na'Dreya Lattimore, A 'Kid of Character'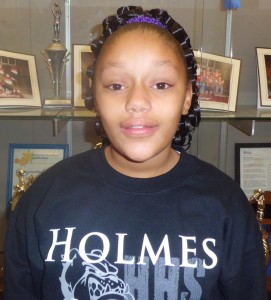 At 11 years old, Na'Dreya Lattimore (a student at Holmes Elementary School) has already demonstrated she is a courageous leader eager to stand up for what she believes in. Resiliency was taught her very early through personal hardships that gave her a renewed strength of character. An honor student, Na'Dreya is a leader in the Born Leaders of Covington Kentucky (BLOCK) group and was instrumental in developing a literacy program for students at a local child care center, as well as other community service projects. Her demonstration of determination thrust her into the national spotlight last year when Na'Dreya decided to write to the President about her opinion on the 'No Child Left Behind' Act. She felt that children who needed more help in school were holding back kids who were learning more quickly.
She closed her letter with this…'One more thing, … you need to look at us differently. We're not black, we're not white, biracial, Hispanic, Asian or any other nationality. We are the future.'" President Obama recited her letter in an Urban League speech. "Na'Dreya, you are right," he said.
Na'Dreya is one of 10 kids who will be honored October 12 by the Cincinnati nonprofit organization, Character Council of Greater Cincinnati and Northern Kentucky. I was thrilled when they asked me to help with writing the bios and helping them to get added exposure for the event. What a wonderful cause. One of my other favorite events of the year is working on the YMCA of Greater Cincinnati Character Awards Event that honors 40 older teens for their character values. This event recognizes younger children, grades K through 8 (at the time of the end of the 2010-2011 school year).
Who are Character Council 'Kids of Character'?
Well, at a young age, they are already role models and leaders. They're not afraid to speak up for important causes and work hard for what they believe in. They are compassionate friends and respectful contributors to society. While diverse in their backgrounds, these are the common threads that all 10 Character Council of Greater Cincinnati and Northern Kentucky 'Kids of Character' honorees share. (Please see list of honorees below.)
And for that, they will be honored at the first annual Kids of Character Celebration Dinner. Anthony Muñoz, Character Council spokesperson, will join community members recognizing these shining examples of trustworthiness, respect, responsibility, fairness, caring and citizenship.
According to Mary Andres Russell, executive director, " Our Board and committees all agree that in order to truly create a city and region of character, we have to reach the children and reach them early.  There are so many outstanding kids in our community who have benefited from great parents and dedicated teachers.  We decided to create a forum to honor these children to encourage them and that they might be a light to others.  Through the process, our judges discovered a commonality — most have overcome great adversity.  Instead of crumbling, they have used the adversity to shape their character."
 Character Development begins early
The Character Council, whose mission it is to foster character development in children and adults as a foundation of success, works with many local educators and organizations to teach these values to youth.
The organization  recently adopted its fourth CPS school as a 'school of character' and this past summer it rolled out character education programs in ALL 26 Cincinnati Recreation Centers collectively serving about 2500 kids.
Event information:
October 12 at 6:30 PM
Montgomery Inn in Montgomery
'Kids of Character' Celebration Dinner
Cost: $75 per seat
RSVP: 513-467-0170
Founded in 2000, the Character Council of Greater Cincinnati & Northern Kentucky engages educators, community volunteers, employers, and worship congregations in building and strengthening positive character traits as a foundation for life success. In 2010, more than 371,000 citizens were impacted with its message of good character. Among its strategies: the Council has trained and provided educational materials to more than 1000 Cincinnati police officers, employees of more than 60 local businesses, and more than 1200 local educators on promoting positive values; and offers presentations and information to the general community on good character. For more information, visit http://charactercincinnati.org.