Miami University's Kappa Alpha Psi Trek 40 Miles On Freedom Walk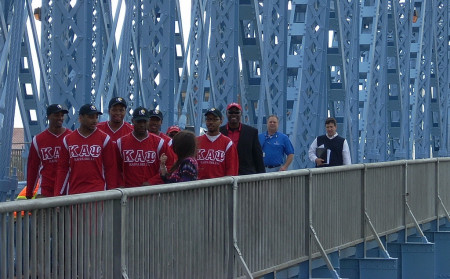 Members of Miami University's Kappa Alpha Psi Fraternity walked 40 miles several weekends ago. A significant distance for anyone to trek in just two days, the fraternity's Freedom Walk traced only a small portion of the brave and treacherous journey of their ancestors who escaped the deplorable conditions that were known as slavery.
Along the way, the eight students and some alumni passed known Underground Railroad safe houses and significant historic landmarks such as the grave sites of Underground Railroad conductors.
"The Freedom Walk was an awesome experience for everyone involved," said Fraternity President Donovan Potter. "Reflecting on how we completed the 40 miles and experiencing the hunger and soreness that we felt, put it into perspective about how slaves had to endure all of that without the benefits that we dad. We were able to stop and get something to eat, readjust our shoes, and not have to worry about someone trying to capture us. It is very heart-warming to know that our ancestors endured the treacherous weather and wilderness just so we can have the life that we live today. This venture over the weekend is going to be an experience that will last us a lifetime."
Kappa Alpha Psi also used the event to help raise money for the Cincinnati National Underground Railroad Freedom Center. Donations are still being accepted. To give online, visit http://www.freedomcenter.org or send a check to The National Underground Railroad Freedom Center (NURFC) at 50 East Freedom Way, Cincinnati, OH 45202. The Fraternity asks that you please note on the check that your donation is on behalf of the Freedom Walk.
(pictured) Top Row : Stephen Buchanan, Greg Jordan
Middle Row: Alex Tyree, Donovan Potter, Andre Rudolph
Bottom Row (left to right): Callen Reese, Glenn Miller
Not Pictured: Tyrone Jones