SOTENI And Cincinnati Students FIGHT AIDS In Africa
There is a local organization here in Cincinnati that is taking on a global issue. You don't hear a whole lot about HIV/AIDS any longer but it hasn't gone away..particularly in areas like the rural communities of Africa, where communicable diseases have the power to run rampant.
When volunteers first founded SOTENI in 2002 their mission was simple – to empower the orphans of AIDS to lead the fight against the disease and prevent another generation of succumbing.
Led by physician-epidemiologist Victoria Wells Wulsin, SOTENI Kenya began in 2003. Their model was and still is called 'Villages of Hope' with a goal was to establish a sustainable, grassroots community led by an elected management committee.  They work to prevent HIV/AIDS and reduce its effects with love, guidance and resources. Since beginning its first Village of Hope in Mituntu, the organization has expanded to include three additional villages in Mbakalo, Ugenya and Kuria.
Cincinnati Students Get Involved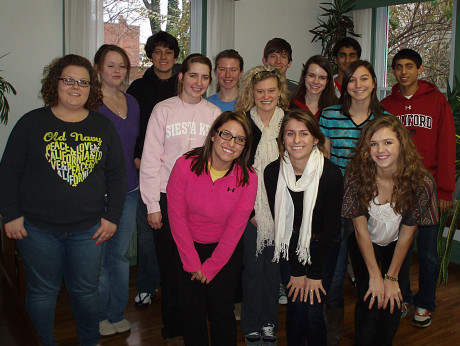 Four area high schools (Walnut Hills, Indian Hills, Oak Hills and St. Ursula Academy)  have gotten involved educating their peers, raising awareness of the AIDS pandemic, and raising important money toward SOTENI's mission.
In December local students participated in SOTENI's 2nd annual Students help Students: Cincinnati to Kenya. They wrote letters to the 39 SOTENI sponsored students in Kenya; and assembled gift bags with toiletries, pens, pencils, & t-shirts.  But the highlight of that afternoon project was the Skype call to two secondary students in Kenya.
Last year Cincinnati students organized a concert of high school bands and raised over $1000 for the health center in Kenya.  Mark your calendars – this year's concert will be March 4, only  instead of bands they are looking for more acoustical groups or solo performers.  It will be at the Leapin' Lizard in Covington.  The event name is 'Paint the Town Red".
<iframe title="YouTube video player" type="text/html" width="460″ height="390″ src="http://www.youtube.com/embed/ABYOTzJtm94″ frameborder="0″ allowFullScreen></iframe>